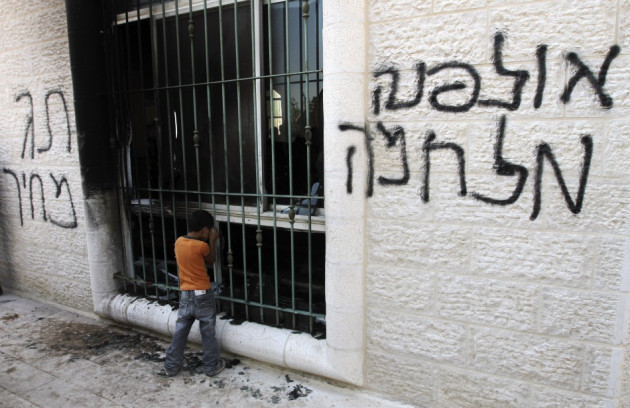 The US State Department has included acts of violence by extremist Jewish settlers against Palestinian residents as "terrorist incidents" for the first time.
The Country Reports on Terrorism 2011 said: "Attacks by extremist Israeli settlers against Palestinian residents, property and places of worship in the West Bank continued."
It likened the tactics to methods used by terror groups around the world.
The list included three arson attacks on mosques in the West Bank and Jerusalem and the defacing of Muslim graves in Jerusalem's Mamilla cemetery with "price tag" graffiti in Hebrew.
Offensive graffiti included "Gas the Arabs" on Palestinian property and a nearby school area.
The report also refers to extremists' attacks on IDF soldiers in the West Bank which "sparked a public debate in Israel on the phenomena of settler violence".
"Price tag" operations are usually committed against Palestinians in retribution for actions by the Israeli government believed to be "anti-settler".
"By seeking to frighten a rival population and intimidate a government, the extremists mimic the typical methods of terrorist groups across the globe," wrote Daniel Byman and Natan Sachs on the Foreign Affairs website.
US and EU officials have become more critical of settlers' tactics amid fears they could trigger a spiral of violence and a militant response from Palestinians.
Attacks by settlers on Palestinians and their property, mosques and farmland increased by 144 percent over the past two years, jumping from 200 attacks in 2009 to over 400 in 2011.
Palestinian terrorism fell dramatically over the same period.
In 2011, extremist settlers launched almost 300 attacks on Palestinian property, leaving 100 Palestinians injured and 10,000 olive trees destroyed.
Yesh Din, a human rights organisation, said that of 781 incidents of settler abuse monitored since 2005, Israeli authorities closed the cases on over 90 percent of them without legal action being taken against perpetrators.
Haaretz reported that the IDF was examining 15 cases of Israeli soldiers witnessing clashes between settlers and Palestinians and failing to intervene.
According to experts, however, the vast majority of settlers oppose attacks against civilians or the Israeli state. In recent years, however, "the settler movement has experienced a profound breakdown in discipline, with extremists now beyond the reach of either Israeli law enforcement or the discipline of settler leaders," Foreign Affairs magazine said.
The US State Department condemned a firebombing of a Palestinian taxi near Bethlehem.
Six people, including four-year-old twins, were injured but no arrests have been made.
Military sources claimed "Israeli civilians were responsible". Prime Minister Binyamin Netanyahu and minister of strategic affairs Moshe Ya'alon also condemned the attack.