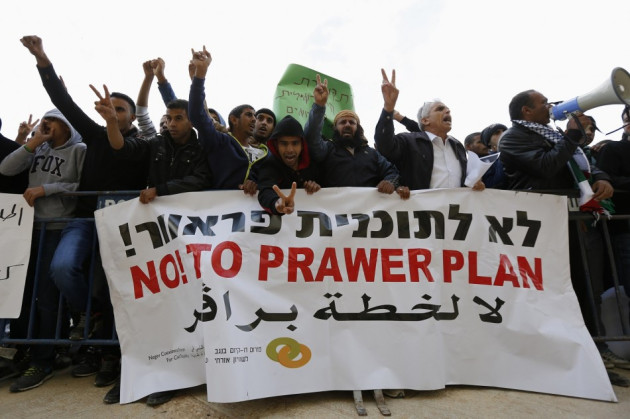 A controversial Israeli plan to forcibly remove up to 70,000 Arab Bedouins from their historic desert land in the Negev has been scrapped, according to its architect Benny Begin.
Begin said that premier Benjamin Netanyahu accepted his recommendation to block the Prawer bill, which was being discussed in the Knesset. "Since the bill went to the Knesset, all sorts of parties - right, left, Arabs and Jews - with interests banded together while exploiting the plight of the Bedouin in the Negev to achieve political capital," he told reporters. "We've done our best, but sometimes you need to recognize reality."
The architect of the plan said that he never approached the Bedouin with the plan and did not seek approval on the issue
"I wish to again make clear that contrary to what has been claimed in recent weeks, I didn't tell anyone that the Bedouin agreed to my plan," Begin told the Knesset Interior and Environment Committee. "I couldn't say that because I didn't present the plan to them. I didn't present the bill that I revised to any segment of the public, including the Bedouin. The revised bill is not being presented again to the public to hear whether the amendments are to its liking or not. As a result, I would not be able to know to what extent they support the law."
The plan attracted criticism by British celebrities, who wrote an open letter to the Israeli government protesting against the bill.
Artist Anthony Gormley, activist Jemima Khan and film director Mike Leigh were among the signatories to the letter which was published in The Guardian and condemned the "systematic discrimination and separation" of the Arab Bedouin community from their homes.
The letter said that plan, which was expected to get final approval by the end of this year, would result in "the destruction of more than 35 Palestinian towns and villages in Al-Naqab (Negev) in the south of Israel and the expulsion and confinement of up to 70,000 Palestinian Bedouins".
The Prawer-Begin plan is officially called the Bill on the Arrangement of Bedouin Settlement in the Negev and, if approved, will move the Bedouin residents of several "unrecognised" villages into government-planned towns where poverty is rife and crime rates are high.
Last month, the Israeli government also Okayed the demolition of a Palestinian Bedouin village in the Negev to make room for a Jewish settlement.
Prime Minister Benjamin Netanyahu approved the decision saying that it will accomplish the vision of Israel's first Prime Minister David Ben-Gurion. Ben-Gurion called the Negev "Zionism's final frontier".
The Bedouins had been evicted by Israeli soldiers from their homes in the north-western part of Negev, near Kibbutz Shoval, following the 1948 Palestinian exodus, known as Nakba.