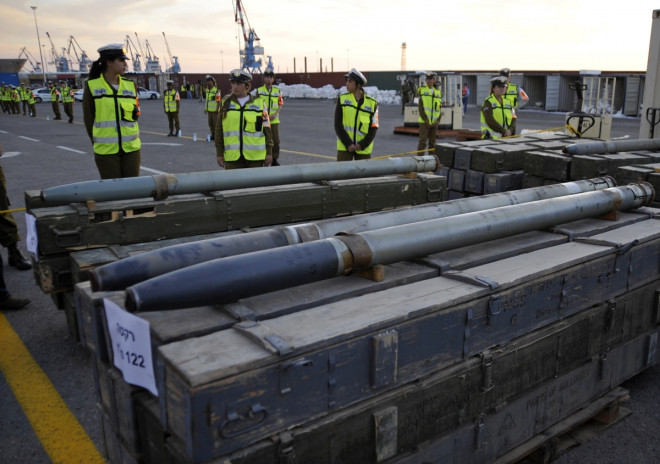 The Israeli Navy has intercepted a vessel in the Red Sea found to be transporting dozens of M302 rockets sent from Iran to Palestinian militants in the Gaza Strip, according to the Israeli Military.
Klos-C, a Panamanian-flagged cargo vessel, was seized and searched in international waters and is to be immediately taken to an Israeli port.
"We have conclusive evidence that there were rockets on board the ship, and we have proof and can say with certainty that Iran is behind this operation," a senior IDF officer told Israeli publication Haaretz.
The rockets are believed to have been made in Syria then loaded onto planes at Damascus airport before being transported to Tehran. In Iran, they were loaded onto the cargo ship in question and set sail for a port in Sudan, according to the officer.
"It was a complex, covert operation," Lieutenant-Colonel Peter Lerner said of the raid.
"The M302 in its most advanced model can strike over 100 miles, and if they would have reached Gaza, ultimately that would have meant millions of Israelis under threat," said the IDF chief.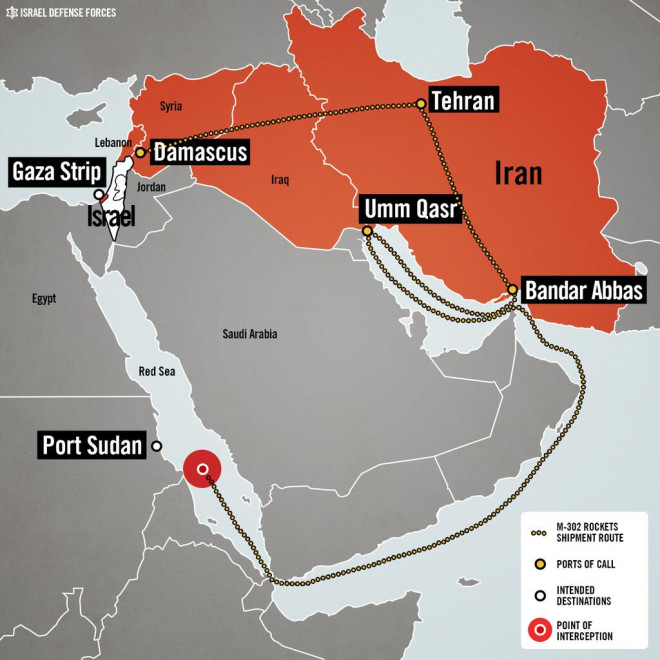 The search occurred 1,500km off the coast of Israel in the Red Sea, a day before the vessel was set to dock in Sudan. The official IDF Twitter account posted photos of the intercepted rockets, a map of the rocket transport route and a video simulation of the raid which can be viewed below.
The Israeli army received governmental authorisation before launching the early morning bust. The IDF Spokesperson claimed that the raid was legitimate: "The operation was carried out in accordance with international law. The IDF would continue to thwart the arms race that Iran is leading in an attempt to inflame the region, and will use all means at its disposal to ensure the security of Israeli citizens."
Past Israeli swoops on weapon consignments sent by Iran have included the "Francop" raid off the coast of Cyprus in 2009, where 500 tons of weapons were discovered on their way to Hezbollah, and the 2003 "Karine A" raid, seizing 50 tons of projectiles and ammunition en route to the Gaza Strip.