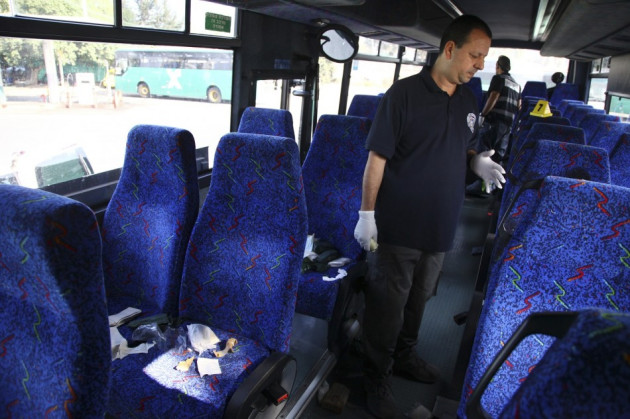 An 18-year-old Israeli soldier has been stabbed to death by a Palestinian youth on a bus in the northern Israeli city of Afula.
The attack, which took place at a bus station, was allegedly motivated by Israel's jailing of the Palestinian's relatives.
"The Israeli soldier who was stabbed this morning by a Palestinian on a bus at the Afula bus station has died of his wounds in hospital," police spokesman Micky Rosenfeld told AFP.
The boy, a 16-year-old from Jenin in the northern West Bank, was detained by passengers and security forces on the bus as he tried to flee the scene. According to witnesses, passengers got off the bus and shouted "terrorist, terrorist" before the boy was caught.
"He stabbed a soldier who was in a bus - very grave knife wounds," Israel's northern police commander Ronny Attia said in remarks broadcast on Israel Radio.
Rosenfeld said authorities are considering the incident to be a "terrorist attack motivated by nationalism". However, the Palestinian said he carried out the attack because his uncles were in an Israeli jail.
Islamist group Hamas, which rules over the Gaza strip, praised the suspect.
"Congratulations to the Palestinian West Bank hero who killed an Israeli soldier in Afula this morning," Hamas spokesman Fawzi Barhum wrote on his Facebook page.
"This is a heroic act of resistance showing that all methods of oppression and terror have not and will not succeed in stopping our people from carrying out jihad and resistance."
US secretary of state John Kerry was in Israel and occupied Palestinian territories last week in an attempt to revive peace talks that are already stalling after just three months of meetings.
READ MORE: Jordan 'Adamantly Opposed' to Jewish Prayer in Jerusalem al-Aqsa