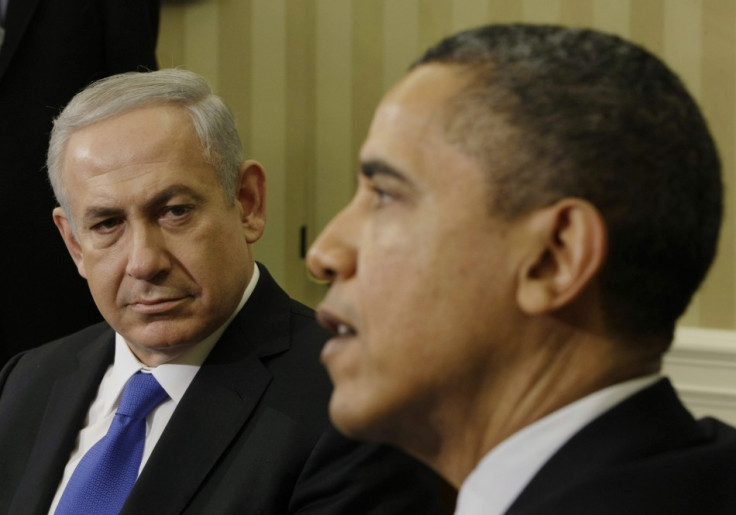 Israel is poised to erect 851 more settler homes in the occupied West Bank in a move some observers say was encouraged by US president Barack Obama's remarks about US "fidelity" to the Israeli cause.
The plans, which have still put Prime Minister Benjamin Netanyahu at odds again with Washington and the Palestinians, was sponsored by housing minister Ariel Attias, who told Army Radio: "We need to build".
Netanyahu is trying to calm settlers' anger after he urged parliament to vote down a bill that would have legalised settlers' outposts in Ulpana, which were built illegally on privately held Palestinian land.
He pressurised lawmakers to dismiss the bill, which was backed by ultra-orthodox Jews, to avoid the embarrassment of having to carry out a supreme court ruling that ordered the 30 apartments in Ulpana to be destroyed by 1 July.
As a compromise, he pledged more house-building in the authorised settlement of Beit El, not far from Ulpana.
"Israel is a democracy that observes the law, and as prime minister I am obligated to preserve the law and preserve the settlements. And I say here that there is no contradiction between the two," he said.
Attias said the Ulpana apartments would be evacuated but 851 more will be built instead. "Under the circumstances, this is a worthy solution," he said.
Both the Palestinians and the US condemned the new construction as a sign of bad faith.
Senior Palestinian official Saeb Erekat denouncedit as a measure "that undermines all efforts to revive the peace-making between the two sides".
Despite Obama's latest remarks, the US criticised the settlement activity. "We are very clear that continued Israeli settlement activity in the West Bank undermines peace efforts and contradicts Israeli commitments and obligations," State Department spokesman Mark Toner said.
France also condemned the Israeli plans. "We call on Prime Minister Benjamin Netanyahu to abstain from implementing these plans. We recall that colonisation in all its forms is illegal under international law, undermines the two-state solution at ground level and is an obstacle to peace," Foreign Ministry spokesman Bernard Valero said.
The World Court considers Jewish settlements illegal.
Israel David, vice-chairman of the Israeli Association of Construction and Infrastructure Engineers, estimated the building work would cost between $13m and $25m (£8m-£16m), according to the Daily Star.
Israel builds around 2,000 housing units in the West Bank each year.
The anti-settlement Peace Now group said 9,000 of the 65,000 housing units Israel has built for the 311,000 settlers in the territory fall into the category of exploiting Palestinian land. Some 2.5 million Palestinians live in the West Bank.