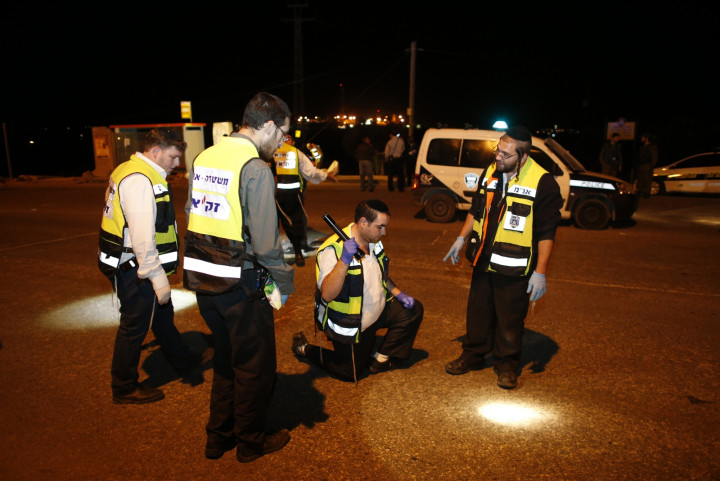 Two Israelis have been killed in knife attacks in Tel Aviv and the occupied West Bank.
The first attack was on an Israeli soldier, who later died of his wounds, a spokesman at Tel-Hashomer hospital said. A Palestinian from the West Bank city of Nablus was arrested.
The soldier was named as Sgt. Almog Shiloni, aged 20, according to the New York Times.
An eyewitness, Gilad Goldman, told the Israeli website Ynet: "I got out of my car and saw him assaulting and stabbing the youth. I punched him in the face. He dropped the knife and began fleeing."
In the second incident, a 26-year-old woman was knifed to death near the Alon Shvut Jewish settlement in the West Bank.
The attacker tried to run over people in his car, hit a concrete barrier then got out of the vehicle, according to an AP report.
He then stabbed the woman along with two other Israelis at a bus stop. The two injured men were taken to hospital.
The attacker was shot several times by a security guard and was taken from the scene in a serious condition, emergency services said.
Israeli media, citing security sources, identified the attacker as Maher Hamdi Hashalamun, 30, of Hebron, reportedly a former prisoner jailed by Israel for security offences.
Prime Minister Benjamin Netanyahu promised a harsh response to the violence, saying he will use all means available — and consider taking even tougher steps, to stop the unrest. And in a veiled threat toward Arab demonstrators in Israel and east Jerusalem, he said attackers should consider moving to the West Bank or Gaza Strip.
"Believe me, we will put no difficulties in your path," he said.
Ahmed Tibi, a prominent Arab MP, accused Netanyahu of having "gone off the rails".
Naftali Bennett, Israel's economy minister, blamed the continuing violence on President Mahmoud Abbas of the Palestinian Authority, calling him "a terrorist in a suit."