Israeli Women Pose Naked in Support of Egypt's Aliaa Magda Elmahdy, the Nude Blogger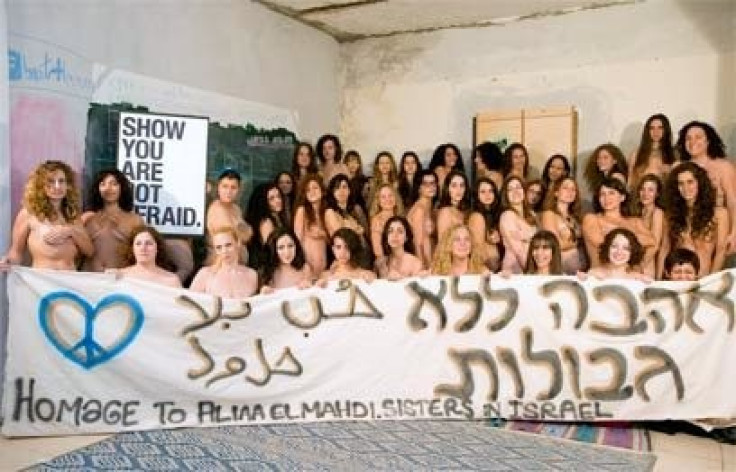 Dozens of Israeli women have posed naked in support of Aliaa Magda Elmahdy, the Egyptian blogger who sparked fury in the Arab world last week when she published a series of nude pictures of herself on Twitter under her real name in a protest against Islamic extremism.
As an act of solidarity with the 20-year-old activist, whose pictures caused a stir on Twitter under the hash tag #Nudephotorevolutionary, some 40 Israeli women stripped off their clothes for a nude group shot.
Inspired by Elmahdy, Or Tepler, 28, opened a Facebook event inviting women "to show support in a non-violent and legitimate way for a woman who is just like us - young, ambitious, full of dreams and evidently has a developed sense of humour".
Encouraging fellow Israelis, she wrote on Facebook: "Girls, let's give the world a good reason to see the unique beauty of Israeli women." The women responded in solidarity: "Regardless of whether they are Jewish, Arab, straight or lesbian - because here, as of now, it doesn't matter. Let us show the doubters that our international discourse doesn't depend on governments."
New Pictures of Aliaa Magda Elmahdy, the Nude Blogger
Elmahdy received threats and harsh criticism for her bold move. A group of Islamic law graduates has filed a lawsuit against her and her boyfriend, blogger Kareem Amer, accusing them of "violating morals, inciting indecency and insulting Islam."
Tepler told Israel's Ynet News site: "I got the idea the day that the blogger's photo was posted. I didn't expect that she would get the response that she got. It got on my nerves that she received a quarter of a million abusive comments and death threats.
"I felt that when a liberal, enlightened woman in Cairo cannot express herself and gets threats from her state, I should show solidarity," she said.
"Of course, there's the nationalistic aspect and I won't deny being a leftist and a seeker of peace," she added. "I feel like the governments don't represent the enlightened, simple people who want peace."
© Copyright IBTimes 2023. All rights reserved.