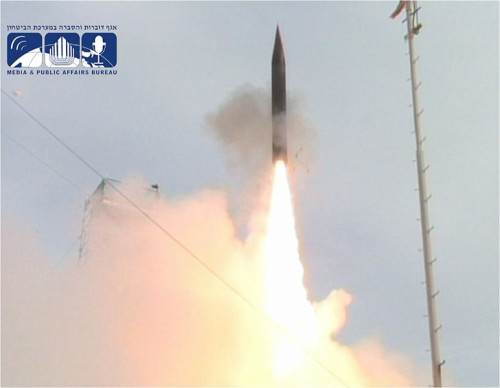 Israel has claimed a successful test-firing of an advanced missile defence system.
Arrow 3 was launched from the Palmachim airbase and flew over the Mediterranean.
Ministry official Yair Ramati said the system was "fully tested" but did not go into details.
The Defence Ministry said that the test was a milestone in the development of the missile. In a joint statement with the Pentagon's Missile Defense Agency it added that Arrow 3 "flew an exo-atmospheric trajectory through space, according to the test plan".
The missile was designed to intercept enemy missiles closer to their launch sites. Preliminary tests began in 2011.
Advances in missile engineering mean that Arrow 3 is half the weight of its predecessor, Arrow 2, and is also substantially smaller.
The Arrow missile is part of a multi-layered defence Israel is developing to protect itself from a range of external threats, from short-range rockets fired from the Gaza Strip and Lebanon to longer-range missiles from Iran.
Arrow 3 could also potentially be used to bring down satellites.
In January 2012, US aviation giant Boeing joined Israel Aircraft Industries (IAI), in the development of Arrow 3. Since the system went into development in 2008, the US has heavily financed it, providing over $74m in 2013 alone.
The IAI is preparing the system for a full intercept test in early 2015 and it is expected to be operational by early 2016.