Italian Police 'Gagged and Tied' Tunisian Passengers on Plane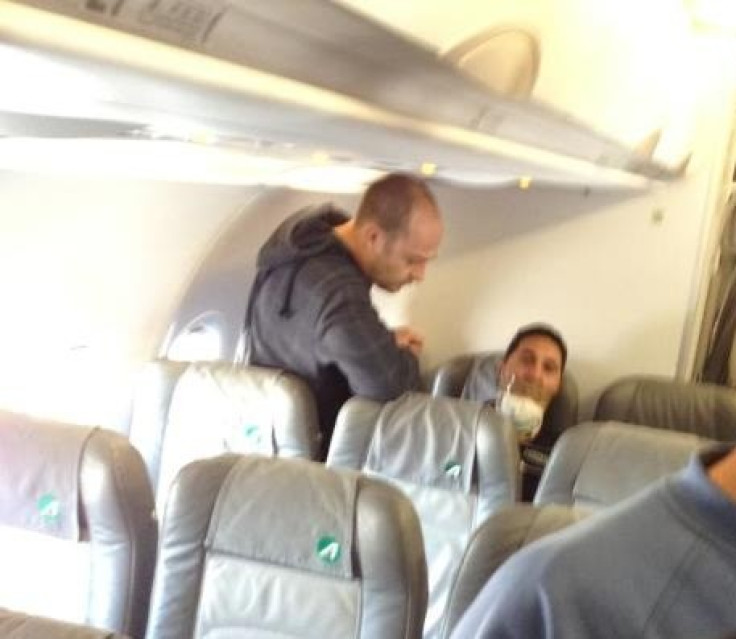 A picture of a Tunisian citizen gagged and tied with tape on a plane during an alleged Italian police operation has gone viral on Facebook, provoking an outcry over the treatment of immigrants by authorities.
The professional filmmaker Francesco Sperandeo was among the stunned passengers on the Alitalia flight from Rome to Tunis, in which two Tunisians sat in the back row with their wrists and ankles bound and tape over their mouths.
The flight crew and agents accompanying the pair said it was a routine procedure of repatriation.
Sperandeo managed to take a photograph of one of the two Tunisians, who can be seen with tape over what appears to be a surgical mask. He posted the shot on Facebook, where it went viral in a couple of hours.
Sperandeo wrote: "Two Tunisian citizens, who were being rejected from Italy, treated in an inhuman way.
"The most worrying thing is that everything happened amid the complete disregard of the other passengers. When I asked for explanations, I was told it was a normal police operation."
Berlusconi's government came under fire last year for its plans to repatriate illegal immigrants from the island of Lampedusa in southern Italy, where around 55,000 people from Libya and Tunisia came ashore last year.
As their number far exceeded that of the local population, former interior minister Roberto Maroni came under pressure to promise that they would be repatriated.
Italy has been sending the most illegal Tunisian immigrants home if they do not qualify for political asylum.
Residents of the island, who complained they they are being forced to bear the entire EU's immigration burden, have been involved in clashes with the migrants, in which several people have been injured.
© Copyright IBTimes 2023. All rights reserved.