Italian Singing Nun Suor Cristina Wins The Voice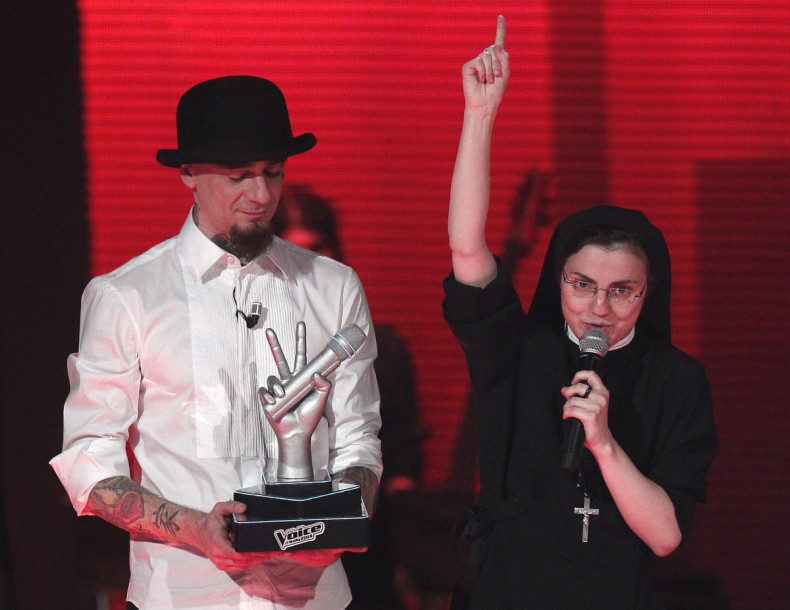 A singing Italian nun, who became an internet sensation for performing a pop song in full habit on national television, has won Italy's version of music competition "The Voice"
Singing and dancing to a song from the 1980s movie Flashdance, Sister Cristina Scuccia, 25, took the contest's title and the Universal record contract during the four-hour finale of the talent show.
The Sicilian native, widely referred as simply Suor Cristina, thanked God after it was revealed she triumphed with 62% of viewers' votes.
"The last word of thanks, the most important, goes of course the one up there," she said - referring to God, of course.
The mild-mannered nun then bemused the audience by reciting the Lord's Prayer on stage to celebrate the victory.
"I want Jesus to enter into this," she said before reciting the prayer, whose conclusion was met with warm applause by the public.
Coached by the tattooed Italian rapper J-Ax, an avowed atheist, in the final Sour Cristina beat her closest rival, 28-year-old rocker Giacomo Voli, who had performed "Stairway to Heaven".
Suor Cristina became an international phenomenon after her first appearance in a blind audition on the show in March.
The Catholic nun came on stage dressed in a black habit and a silver cross necklace and sang a powerful rendition of Alicia Keyes's No One.
The judges were astonished where they were allowed to see who the performer was. The related YouTube video has since been viewed some 50 million times.
"It all started as a game," Scuccia said after winning. "But then, playing the character, every evening I realised my life was changing."
Her participation in the show and insistence on wearing a habit were praised by many members of the faithful who said she helped refresh the image of the scandal-ridden 2000-year-old Catholic Church and made religion more appealing to young people.
However it also drew criticism from some, who argued such exhibitionism wasn't appropriate for a nun.