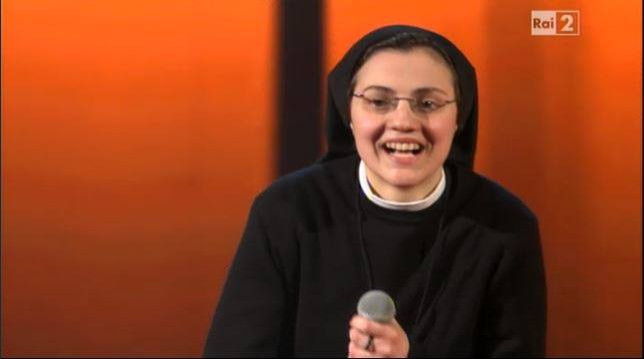 A 25-year-old nun has become an overnight pop sensation after a mesmerising performance in the reality show, The Voice of Italy.
Sister Cristina Scuccia stunned the judges of the show with her rendering of Alicia Keys's No One.
The Catholic nun came on stage dressed in a black habit and a silver cross necklace.
The judges were treated to an astounding sight and a magical performance.
So over-awed were they that they asked her if she was really a nun or came dressed as one. Sciccia replied: "Yes, I am truly, truly, a sister."
Italian rapper and judge J-Ax said: "If I had found you at Mass I would always be in church, you and me are like the devil and holy water."
She finally joined J-Ax's team and will move into further rounds.
Scuccia, a member of the Ursuline Sisters of the Holy Family, received a standing ovation from the audience while her fellow sisters jumped with joy.
When the judges asked her what the Vatican would think of her song, Scuccia said: "I hope that Pope Francis will call me now," the New York Daily News reported.
"I came here because I have a gift and I want to share that gift. I am here to evangelize," the 25-year-old nun told the Catholic News Agency.
Scuccia is a native of Sicily and came with her parents and fellow sisters to the reality show.
Soon after her jaw-dropping performance, she trended on Twitter with an outpouring love for "#suorcristina."
#suorcristinascuccia rocks the house!! Her performance is fun to watch; the expressions on the judges' faces is priceless.

— Cindy Boggs (@cindyboggs) March 22, 2014
#suorcristinascuccia best part 4 me : the nuns in the backstage cheering & jumping when J-AX pushed the button. — Tony A. (@turbo_aa) March 22, 2014
Not usually into this kind of thing but #suorcristinascuccia if for real, wow!

— Jet Takaoka (@Jet_Takaoka) March 22, 2014
Check the video here.