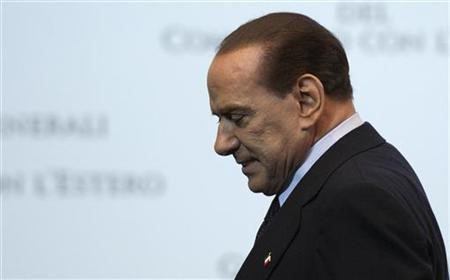 Italy's business lobby group, the equivalent of Britain's CBI, has urged quick government action and warned that the country risks being unable to meet its financial needs.
"The country is now in the abyss," said Emma Marcegaglia, head of Confindustria at a conference. "The situation is untenable."
Like economist and former European Commissioner Mario Monti, who is now being called the favourite candidate to lead a technocrats' government, Marcegaglia had for months been criticising Prime Minister Silvio Berlusconi for his failure to tackle the country's long-worsening debt.
She recently warned that Italy stood at the cliffs of an abyss. "Efforts will be in vain if we do not manage to restore the credibility we've lost in the eyes of the international institutions. We must do so immediately, within hours."
Her words were echoed by Pirelli Chairman Marco Tronchetti Provera, who called on parliament to act immediately to approve the economic reforms necessary to stem a tidal wave of market speculation that is pushing up Italian borrowing costs.
Italy is scheduled to auction €5 billion of government debt ("12-month bills," repayable in a year's time) on Thursday. The country's authorities have encouraged Italian banks to buy 5 billion euro of 1-year government debt, according to Robert Peston, Business editor for the BBC.
European stock markets have suffered heavy losses at the start of trading. The FTSE 100 index in London has opened 99 points lower at 5363, a 1.8 per cent drop.
The continuing rise of interest rates on Italian government bonds on Wednesday has left Italian President Giorgio Napolitano with no option but to appoint Monti as a senator-for-life, with the clear intent to bring him into parliament. Monti could lead an emergency government of technocrats to take over from Berlusconi's administration with the purpose to pass economic reforms.
However, the formation of a technical government will be opposed by Berlusconi's former closest ally, the Northern League, and centre-left parties such as Antonio Di Pietro's Italy of Values party. "Being in opposition is great, it is more entertaining," League leader Umberto Bossi said Wednesday, suggesting the League will not support a Monti government.
Angelino Alfano, the man Berlusconi has said could succeed him as People of Liberty party candidate in an election, seemed to suggest the Monti option was closer when he pointed out "Berlusconi was the prime minister who appointed Monti to the EU and countersigned his appointment as a senator-for-life."