In the last few days, Italians have had a chance to take a closer look at the parliamentary newcomers elected from the ranks of former comedian Beppe Grillo's Five Stars Movement (M5S).
The sight has left many people puzzled.
M5S's 163 elected MPs are all freshmen in the Italian parliament - a prerequisite Grillo required for a candidacy to be accepted.
Until February vote the "Grillini" - as M5S MPs have been dubbed by Italian media - were hidden away by Grillo's strict party rules, which barred interviews.
Still reluctant to talk to journalists, the Grillini have started communicating with the electorate through the internet - the means by which party co-founder Gianroberto Casaleggio has pledged to revolutionise Italy.
X Factor-style meeting
All M5S MPs recently gathered in a Rome hotel to elect two spokespersons for the party and introduce themselves to each other and to Grillo - who had never met the vast majority of them.
Journalists were not allowed in but the meeting was streamed live on Grillo's blog.
It was compared by Corriere della Sera TV critic Aldo Grasso to an X Factor casting.
Each of the new 109 deputies and 54 senators stood up before the assembly, and listed his name, background and interests, before passing the microphone to the next party member.
"Hello everybody. [My name is] Alberto Airola, Turin, Senate. I'll deal with labour and workers' rights because I've worked with unions. I'll also deal with culture because I work in the cultural apparatus," said one.
"I would like to bring my passion for the web and music. I'm a musician too," said MP Sergio Battelli.
"I'd like to work in the defence committee as I'm a member of different pacifist groups," said MP Roberto Cotti.
For all its good intentions, the introductory meeting was a display of political naivete that raised analysts' eyebrows.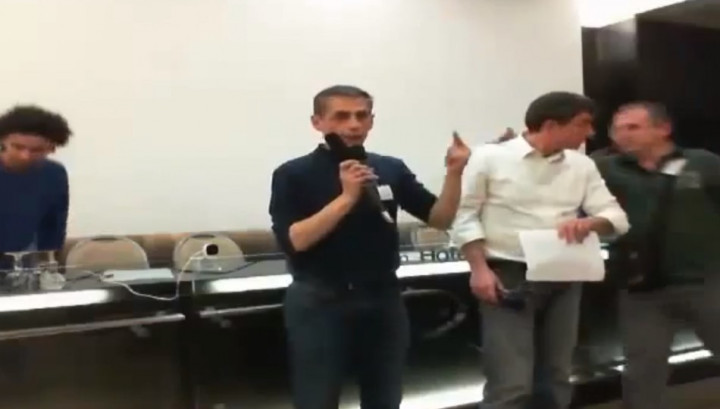 Human microchip implants and 'good fascism'
Further suprise followed a rare interview with an M5S MP on Rai Tre television program Ballaro.
Paolo Bernini, 25, said his life changed after watching Peter Joseph's conspiracy theory documentary Zeitgeist.
"I don't know if you are aware of it but in America they've already started to implant microchips inside human bodies. To record, to control the population," he said referring to a claim in the movie that became an internet sensation in 2007.
"With the internet many minds are awakening and truth is emerging," he added
Bernini's words echoed a video published by M5S guru Casaleggio which predicted the birth - on 14 August, 2054 - of a new world order named Gaia at the end of a 20-year third world war.
Change driven by the internet would make all men subject to the same laws and erase all conflicts, the video claims.
In the shorter term, what has eventually emerged from the internet is that the freshly elected M5S spokeswoman Roberta Lombardi had praised Italian fascism on her blog, claiming Benito Mussolini's movement had a promising start.
"Before degenerating, fascism conveyed a high respect for state's institutions and family values," Lombardi wrote.
A similar claim had been made by M5S's arch-enemy Silvio Berlusconi during the electoral campaign.
Lombardi later backtracked saying her words had been misinterpreted.
Crumbling revolution?
M5S has to be credited for bringing a breath of fresh air to Italy's corrupt political establishment.
M5S MPs are on average 39 years old; the average age in the last legislature was more than 50.
About 80 percent of M5S lawmakers are graduates. In the last parliament only about 65 percent of MPs claimed to have earned some kind of degree.
However, the Grillini have shown an impressive lack of political savvy that has cast doubts over their ability to survive unblemished the power games played in the hallways of the Italian parliament. It has also called into question the viability of an M5S government, since Grillo has stood his ground that his party will not support any administration but his own.
Italian Democratic Party (PD) leader Pier Luigi Bersani has reiterated an appeal to Five Star Movement MPs to face up to its responsibilities to voters, after having unsuccessfully urged him to cooperate and form a government to lead Italy out of the political deadlock.
It is to the Grillini to show they are unwilling to take up such responsibilities because of their political credo, and are not unable to do so because of lack of skills. Otherwise the revolutionary movement is poised to crumble under its own weight.