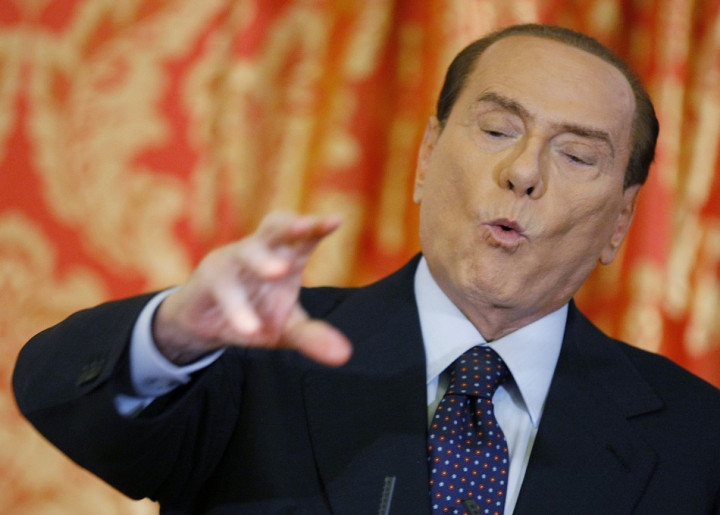 Italy's former prime minister has launched an unprecedented attack on Germany and its chancellor Angela Merkel, accusing Berlin of triggering Italy's debt crisis and causing his government to fall in 2011.
Silvio Berlusconi claimed that the differential in interest rates between Italian and benchmark German bonds - the spread - sparked market panic and led to his resignation in 2011.
It was, he said, nothing but "trickery and an invention with which they tried to bring down the elected majority that ruled the country".
Berlusconi, who has announced his political comeback, said the spread had become an issue since Germany "in its own interest decided to sell all the Italian bonds it had stocked".
That prompted international investors to sell off their Italian bonds, he claimed.
"Having the only absolutely safe sovereign debt, Germany took advantage of the situation, lowering interest on its own debt," Berlusconi told La Telefonata on Canale 5, a station he owns.
News that he would stand again for prime minister in 2013 elections shook European financial markets and caused the spread to rise again. The 76-year-old maverick said, however, that "markets have nothing to worry about".
"What do we care about the spread? What do we care about how much interests our public debt has to pay to Italian bond investors compared to that of Germany?"
He added that the rise in the spread since 2011 had cost Italy "only" €5bn (S6.5bn, £4.03).
"Since I represented Italy, in Europe I was one of the two or three most authoritative political figures. The only one coming from [the] work trenches," he told La Telefonata.
"It is a matter of fact that I opposed Germany's demands. For example I said 'no' when Merkel requested Greece implement policies that brought the country to the verge of a civil war."
He also attacked incumbent Italian PM Mario Monti, after withdrawing support for him on the eve of a key vote. He said Monti's"German-centric" policies had worsened Italy's economic situation.
"All the economic statistics have worsened," Berlusconi said.