Italy at the Polls: Markets Swing as Berlusconi Plays Senate Spoiler [VIDEO]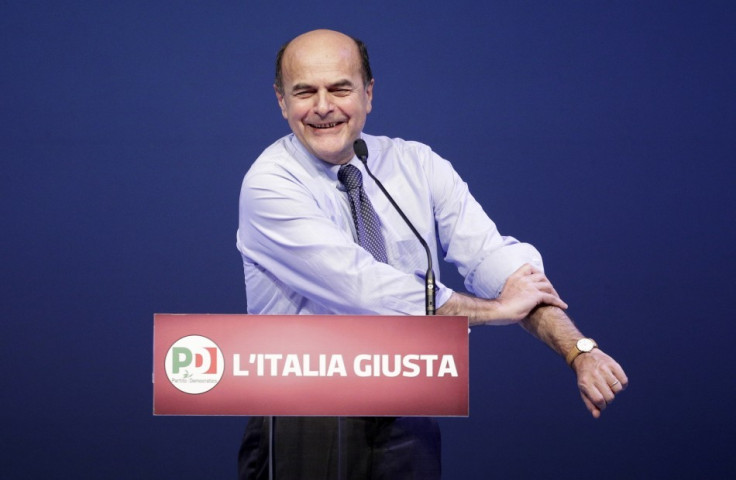 Italian shares and government bonds were volatile Monday in the final hectic hour of trading amid national elections that could lead to a hung parliament in Europe's third largest economy.
Italy's benchmark FTSE MIB index advanced nearly 4 percent in the immediate minutes after the polls indicating a commanding lead for centre-left coalition leader Pier Luigi Bersani in the race for the lower house of parliament were released by domestic media groups RAI and Sky television but reversed those gains once regional data showed the potential for former Prime Minister Silvio Berlusconi's centre-right coalition to win a large enough minority in the Senate to block outright control of both houses for Bersani.
A blocking position for Berlusconi may lead to a hung parliament, according to senior Bersani aide Stefano Fassina, which could lead to another election.
"A Bersani win would remove a major tail-risk for markets who have expressed concern over the political instability in Italy," said Joe Rundle, head of trading at ETX Capital. "That said, it would be unwise to get too excited just yet as the formation of a new government does warrant a degree of caution. Traders will need to be convinced by the incoming Italian Prime Minister that he is devoted to a pro-austerity path for Italy and is committed to working with his European peers to continue repairing the country's finances."
Benchmark 10 year bond yields fell 7 basis points to 4.23 percent, according to data from the bond dealing platform Trade Web, before rising sharply to 4.67 percent by the end of the session. The FTSE MIB trimmed earlier gains to close 0.73 percent higher on the session at 16,351.99.
Bersani's coalition appears on course to win around 34.5 percent of the vote for the 630 lower house, known as the Chamber of Deputies, according to the telephone polls and early projections, and 37 percent of the vote for the 315 seat Senate.
The latest projections, however, have Berlusconi winning 121 Senate seats against 96 for Bersani's coalition. Mario Monti, who resigned as the nation's technocratic Prime Minister in December, would win 19 Senate seats. The Five Star political movement of Beppe Grillo was on pace to take 65 seats.
Italian election rules allow the party winning a relative majority in the lower house to hold an absolute 340 majority, meaning Bersani's PD party will likely control the Chamber without the support of either Monti or Grillio. The Senate may be slightly more difficult to control, given that the so-called premium assigned to the winning party is calculated on a regional, not a national, basis.
Lombardy, Italy's biggest and wealthiest region, accounts for around 20 percent of Italy's GDP and 49 of its 315 Senate seats.
Earlier in the session, the Italian treasury sold €2.8bn in two-year government bonds at a yield of around 1.682 percent, up 25 basis points from a similar sale in January.
Last week the European Commission's winter economic forecast said Italy's recession would likely end this year after a full 2.2 percent contraction in 2012. That said, it doesn't expect growth until at least 2014. At the same time, the Commission sees budget deficits of 2.1 percent this year and next, down from 3.9 percent and 2.9 percent in 2011 and 2012. Inflation likely peaked last year at 3.3 percent, the Commission said, but unemployment will continue to rise to 11.6 percent this year and 12 percent in 2014.
© Copyright IBTimes 2023. All rights reserved.