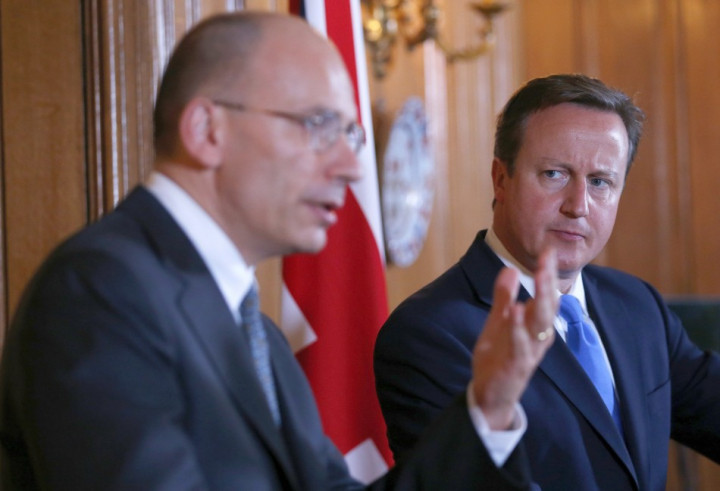 Italy's prime minister, Enrico Letta, has said that EU countries should have no fear over David Cameron's decision to hold a referendum on British membership of the European Union before the end of 2017.
Claiming that the referendum was positive for Europe and the UK, Letta said at a joint news conference with Cameron that it was always good to "let voters have their say".
Letta, who defines himself as a committed pro-European and had made the case for continued British membership of a reformed EU when he arrived in London on Tuesday, said: "We are convinced that in the European Union countries, we are [underestimating] the risk of having the UK out of Europe. In my view, it's a huge risk."
Cameron has pledged to hold a referendum on Britain's continued membership of the EU by the end of 2017 if the Tories return to power at the 2015 elections. Polls say that Britons are divided on staying in the EU.
Pro-European policies keep the coalition with the Liberal Democrats afloat but also alienate part of the Tory electorate, pushing it towards Nigel Farage's Ukip.
Italy is due to hold the 28-nation bloc's presidency in the second half of 2014.
Cameron's promise for a referendum has been greeted with suspicion in parts of Europe and in the US. German Chancellor Angela Merkel, however, suggested that she could be open to talks on a "fair compromise" to keep Britain in the EU.
Letta touched on the importance of political stability to bring growth.