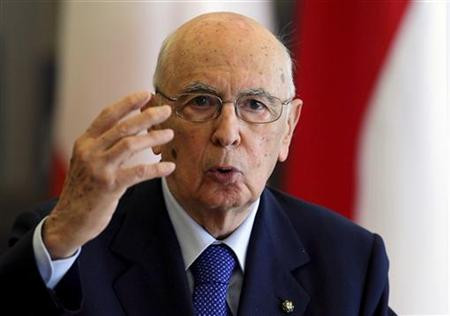 The anti-establishment Five Star Movement (M5S) led by comedian Beppe Grillo has put forward a symbolic impeachment motion against Italian president Giorgio Napolitano for his invasive role in politics.
The motion, announced by MP Vincenzo Maurizio Santangelo, accused Napolitano of "infringing the constitution" by violating his largely ceremonial role.
The 88-year-old president, who is widely respected in the country for pushing stability in troubled economic and cultural times, is accused of interfering in the parliament, transforming Italy into a presidential republic.
Roberto Speranza, chief lawmaker for the centre-left Democratic Party, said the move was "a crazy act aimed at undermining the basis of our democratic system".
The motion will certainly be rejected in the parliament as the Five Star Movement does not have enough support.
Earlier, another MP from the Grillo movement, Giorgio Sorial, insulted Napolitano calling him an "executioner who is endorsing a series of actions to sew the opposition's mouth and cut off our head".
His words were criticised by all political sides for their eerie echo to Fascism. The expression "executioner" was used during Mussolini regime as an official motto.
Prime Minister Enrico Letta defended Napolitano with a tweet: "The M5S's shameful attack on Napolitano is a point of no return, extremist in nature and unacceptable for those who practice the principals of democracy."
Napolitano helped set up Prime Minister Enrico Letta's current government and the previous cabinet led by economist Mario Monti, after billionaire tycoon Silvio Berlusconi's resignation in 2011.