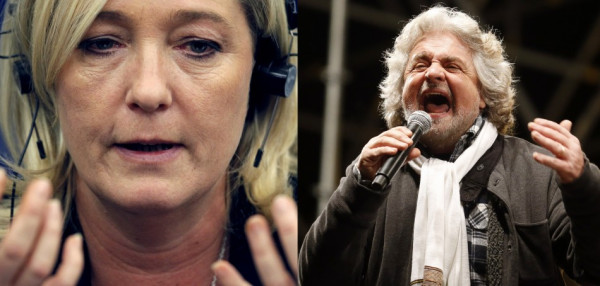 France's far-right leader Marine Le Pen has praised Italian Five Stars movement leader Beppe Grillo and demanded a meeting with him to discuss Euro-sceptic policies, according to local reports.
"Italy has become aware of the EU's damaging rules," Le Pen, leader of the Front National party, said during a press conference in Paris.
"If Grillo wants to meet me he can ask me. We have to be aware that Euro-sceptic forces that want change [on Europe] must meet. European populations must advance; they have the right to sovereignty.
"We can't carry on building a totalitarian Europe, set up against them. European leaders must organise a referendum on Europe."
Le Pen argued that even former Italian Prime Minister Silvio Berlusconi has changed his very pro-Europe position, which was previously "similar to Sarkozy's one" and that Euro-sceptics "are the majority" in Italy.
She endorsed Five Stars for refusing to join other parties in order to form a government. "I think we cannot solve problems together with those who created them."
Italy's president Giorgio Napolitano appointed ten "wise men" to help form a new government fast after centre-left leader Pier Luigi Bersani failed to form a sustainable coalition in Parliament.
The ten "wise men" have all been MPs in either Bersani or Berlusconi's parties. Napolitano's decision to call them has met with scepticism by all political parties.
Five Stars refused to back anybody but themselves for the job of governing Italy.