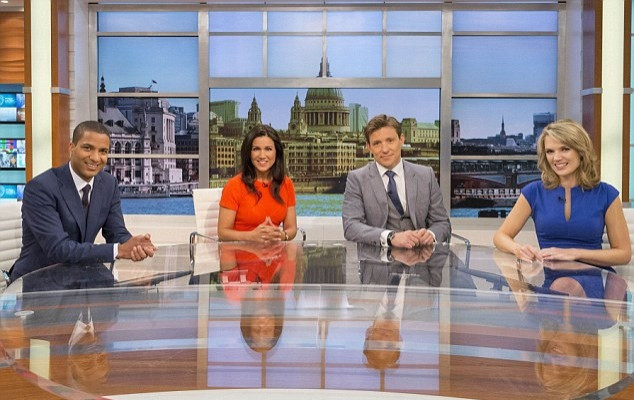 The new look TV set for ITV's breakfast show, Good Morning Britain, has been revealed.
The show, which launches at 6am on Monday (28 April) will be hosted by former BBC Breakfast presenter 43-year-old Susanna Reid alongside Ben Shephard, 39, Charlotte Hawkins, 28 and Sean Fletcher, 30.
Breaking with tradition, the four hosts will be sitting behind a desk instead of a sofa.
Reid said the new look and style of presentation makes the show distinctive.
"Our set is different, fresh and it's not what people have been used to over the last couple of years in breakfast television. It is something new and exciting for us. We all start behind the desk, which hasn't happened for a while," she revealed.
The new show also does away with the conventional male/female pairing, with its four hosts fronting the show together.
Appearing on This Morning, Reid, who quit her role as BBC Breakfast co-presenter, said she was excited ahead of the show's launch.
"I'm not sure I'm going to go to bed at all on Sunday night. But it feels very, very exciting. I think you're right, two alarm clocks are essential for Monday morning - I haven't got up that early for a couple of months."
It's hoped that the new look breakfast show will lure new viewers after ITV's Daybreak failed to capture a strong viewership.
The show had a reported 600,000 viewers compared to the BBC's morning show which had an audience of 1.6 million.