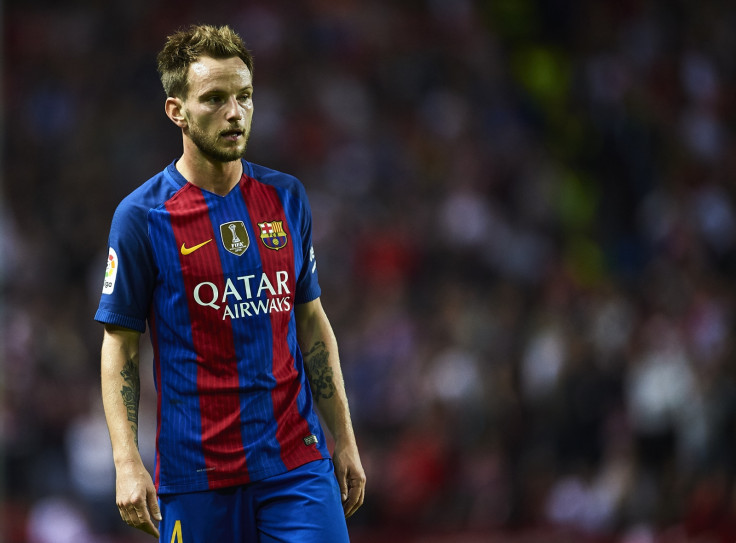 Ivan Rakitic is reportedly set to sign a new long-term deal to continue at Barcelona, putting an end to speculation linking him with the likes of Manchester United, Manchester City and Juventus. Sport claims that the agreement between the Croatia international and the La Liga giants is already done and will be official in a matter of weeks.
Rakitic, 28, joined Barcelona from Sevilla in the summer of 2014 with the hope of becoming the long-term replacement of Xavi Hernandez at the Nou Camp. He quickly adapted to the Catalans' passing game and during the first two seasons formed an impressive trident alongside captain Andres Iniesta and Sergio Busquets, helping his side to conquer the treble in the 2014-2015 campaign and La Liga and the Copa del Rey last season.
However, his future at the club came under scrutiny after Barcelona decided to bolster the midfield during the summer with the arrival of Andre Gomes and Denis Suarez.
Mundo Deportivo then reported that Manchester United, Juventus, Chelsea and Real Madrid expressed interest in the midfielder but Rakitic decided to continue at Barcelona in the hope of being kept as a regular for Luis Enrique.
But speculation resurfaced in January after Rakitic saw himself behind Andre Gomes in the manager's pecking order.
Croatian media outlet Jurtanji then set alarms bells ringing at the Nou Camp after reporting that the former Sevilla star could make a move to Manchester City ahead of the second part of the season – after he was left out the squad for a game with Villarreal.
However, reliable Mundo Deportivo journalist Francesc Aguilar played down fans' concerns, saying that the player was determined to sign a new deal at Barcelona – despite Jose Mourinho still trying to lure him to Manchester United.
On January 20, Rakitic confirmed those reports, saying that he was committing his long-term future to Barcelona despite admitting he was not 100% happy with the lack of playing time.
"I am looking forward to sitting down with the club officials, I want to renew my contract and stay here for many years," Rakitic said. "The trust with the manager and the people of the club remains, nothing has changed. The boss knows that I am not happy when I am not on the pitch because he is the one who knows me best."
And following weeks of negotiations Sport is now reporting that Rakitic has finally reached an agreement to continue at Barcelona until 2020 or 2021. The Spanish publication claims that the deal is done and the announcement will be official in the coming weeks, before the next international break in late March.
Sport insists that Juventus and some Premier League clubs have tried to sign Rakitic in recent months but he is instead likely to continue at Barcelona, despite also being a sub during the recent 4-0 defeat to Paris Saint Germain in the first leg of the Champions League last 16.