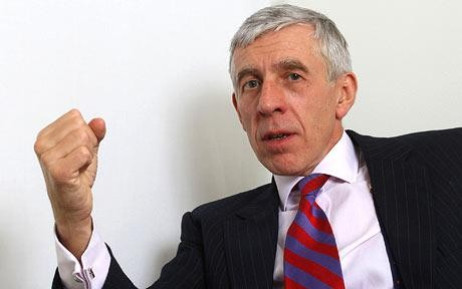 Former Home Secretary Jack Straw has attacked former Labour leader John Smith in his autobiography, which has gone on sale today.
Straw claims Smith, who many believe would have made a successful prime minister, lacked the conviction to lead the country - and drank far too much.
Former home secretary Straw writes: "John was a curious paradox. For all his wit and charm, he was fearful of new ideas. He had immense inner confidence, but he lacked courage.
"He appeared almost uninterested in that crucial role of any leader to see over the horizon, and take people there. I doubt he had the character needed to sustain him as PM.
"But there was something else about him which would have made it difficult had he become prime minister. He was a gargantuan drinker.
"Tony Blair, his successor, contends that, while John was 'a stupendous toper [drinker]', he would never be 'in drink when he needed to be sober'. I disagree. I don't see how someone that dependent on alcohol could determine in advance when he needed to be sober."
In his autobiography, entitled Last Man Standing: Memoirs of a Political Survivor, Straw recounts an incident when Smith exploded in rage at him during a private meeting.
Straw wanted to axe clause four from the party's constitution, an old socialist provision committing Labour to the nationalisation of key industries.
Branding the clause "a shibboleth," Straw wrote that it had to go in a pamphlet.
"For an hour he railed at me," Straw recalls. "I was stirring up a hornet's nest. I was wrecking my own career. He'd see me kicked off the Shadow Cabinet if I didn't drop it. I stood my ground. If we didn't change, we couldn't win.
"He lost his temper. My father used to lose his temper like this. My response then, as now with John, was to close down.
"I began to take my leave. 'You can take this with you, too,' he shouted, as he threw the pamphlet back at me."
Smith was killed by a heart attack in 1994. His death paved the way for Tony Blair to become leader and create New Labour, a move which alienated many traditional supporters of the party despite its electoral success.
Straw's damning indictment has been published by the Daily Mail, which is serialising his autobiography.
They pined for a leader like Smith - an unreformed man of the Left wedded to mass nationalisation programmes.
But Straw pours cold water on lingering beliefs that Smith had been a viable PM.
In Last Man Standing: Memoirs of a Political Survivor, Straw labelled Smith a "gargantuan drinker," who lacked crucial vision for a leader. The book is published by MacMillan.