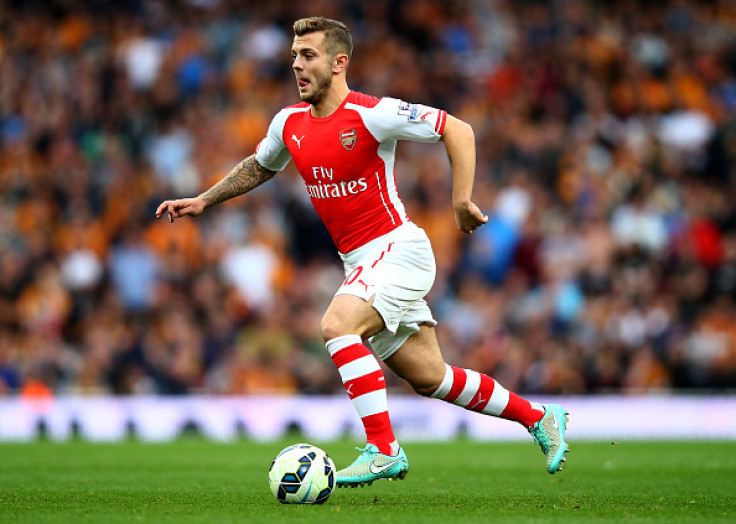 Arsenal midfielder Jack Wilshere has admitted that he will hold talks with Arsene Wenger regarding the manager's plans for him for the upcoming season.
The Gunners are currently in Singapore taking part in the Barclays Asia Trophy alongside Everton, Stoke City and a select Singapore XI side.
Arsenal will take on Everton in the final of the tournament after beating the Singapore side 4-0 in their opening encounter on 15 July.
The French manager opted to rest most of the senior players for the opening game, but did include the likes of Wilshere, Alex Oxlade-Chamberlain, Per Mertesacker and Francis Coquelin among a few other senior stars along with a host of academy players who have travelled along with the first-team squad.
Wilshere was given an opportunity to play in his preferred number 10 role just behind the striker, a role he does not normally occupy due to the presence of Mesut Ozil and Santi Cazorla.
The north London club have a vast array of midfielders, who are all keen to play in a central role, but due to the numbers, Wenger is sometimes forced to play them out wide, like he did with Wilshere following his return to action last season.
The England international, who plays the deep lying role for his country missed a big chunk of last season with an ankle injury and had to settle for a place on the right-wing following his return.
But the midfielder, who desires a more central role has revealed that he will speak to the manager regarding his plans for the upcoming season, while insisting that he is ready to fight his colleagues for a starting spot in his preferred position.
"I haven't spoken to the boss about what plans he has for me — but I will do before the start of the season," Wilshere told reporters following Arsenal's win over Singapore XI, according to the Mirror.
"At the moment, I'm just concentrating on getting fit. I had a good end to the season and I just want to keep it going. That's why I wanted to come back in early for pre-season because I felt I missed too much of last season and wanted to give myself the best opportunity to get fit."
"I asked the boss — I said, 'Boss, can I come back early?' I wanted that because I missed quite a lot of last season. The competition is strong in midfield so, yes, it's down to us as individuals to make that place ours but I'm up for the challenge and I'm sure the other boys are as well," the Three Lions midfielder added.
However, Wenger believes that Wilshere has the ability to play in all the offensive positions be it central or out wide. He understands that most players like Wilshere, Aaron Ramsey and Santi Cazorla prefer to play centrally but indicated that they will have to play wide to accommodate other players in the squad.
"For me he can play in all the offensive positions - wide and central. I have so many good creative players. If you ask all of them where they want to play, they will always tell you central. Unfortunately some of them have to go wide as well," Wenger told reporters in Singapore, as quoted on Arsenal's official site.