Jackie new trailer: Natalie Portman charms as grieving First Lady in heartbreaking sneak peek
Due to be released in the UK on 20 January 2017, the film also stars Greta Gerwig, Billy Crudup and Peter Sarsgaard.
Ahead of the UK release of upcoming drama Jackie next month, Entertainment One UK have released a new trailer starring Natalie Portman as former First Lady Jacqueline Kennedy. Through her eyes, the film remembers the assassination of her husband and then-President of the United States John F Kennedy and explores her grief and the media storm that followed.
"How would you like him remembered?" Billy Crudup's journalist asks a tearful Kennedy in the clip. "There should be more horses, more soldiers, more crying, more cameras.." Portman's character candidly answers as the music swells. This is clearly going to be an emotional one...
Directed by Pablo Larraín (Neruda), the drama also stars 20th Century Women's Greta Gerwig as White House social secretary Nancy Tuckerman, Spotlight's Billy Crudup, Richard E. Grant, John Hurt, John Carroll Lynch as John's successor Lyndon B Johnson, Caspar Phillipson as John and Peter Sarsgaard as his younger brother Bobby Kennedy.
Previously talking about the movie with Variety, Larraín admitted that while he isn't a "big fan of biopics and doesn't "have any particular attachment to that history," he felt a connection with Kennedy herself. In fact, it's what drew him to the project...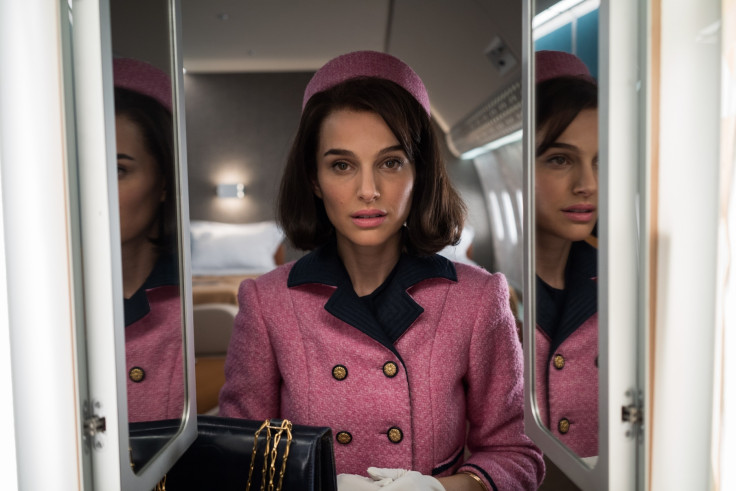 Portman received a Golden Globe nomination for her performance in the upcoming biopic earlier this week
Fox Searchlight Pictures
"I'd only worked with male main characters before, so this was the first time I could approach a woman's perspective," the Chilean filmmaker continued. "And the more I learned about her, how she was able to shape all these very complicated ideas of JFK's legacy, I wanted to explore that. Because it had all the elements that you need for a movie: rage, curiosity, and love."
Already being hailed as an Oscar contender following its release in the US, Portman's performance in particular has earned her critical acclaim and a Golden Globe nomination for best lead actress. The film will finally reach big screens in the UK on 20 January 2017.
For more entertainment news follow us on Twitter @Alistinsider
© Copyright IBTimes 2023. All rights reserved.