Sneak peek of Harry Styles in Dunkirk trailer: Christopher Nolan's epic World War II drama
The film reaches UK cinemas on 21 July 2017, and also stars Tom Hardy and Kenneth Branagh.
Following on from the teaser that landed in August, Warner Bros have released the first full-length trailer for upcoming war movie Dunkirk. Written and directed by Christopher Nolan, the film boasts a star-studded cast including Kenneth Branagh, recent Oscar winner Mark Rylance and frequent collaborators of the filmmaker, Tom Hardy and Cillian Murphy.
It also marks the acting debut of former One Direction member Harry Styles, who can be glimpsed in the preview.
Much like the previous clip, the new two-minute video possesses a sombre tone, beginning with German aircrafts ominously dropping leaflets from the skies, urging British troops to surrender. The scene pans to large numbers of men congregating on wide open beaches; to terrified soldiers looking up to the sky and multiple explosions.
One standout scene features Murphy's sailor, who gets rescued from the waters by Rylance's character and brought back to the front-lines in Dunkirk. "I'm not going back," Murphy states, to which Rylance says: "There's no hiding from this, son. We have a job to do." It's truly harrowing stuff.
While it certainly looks stunning in terms of cinematography – loyal Nolan fans wouldn't expect anything less, it appears as if the plot will be one of the filmmaker's most straightforward, big screen outings – compared to typically mind-bending titles such as Inception and Interstellar. There's no denying it will be action-packed but it looks like it will also pack the emotional wallop that Nolan tends to inject into his projects.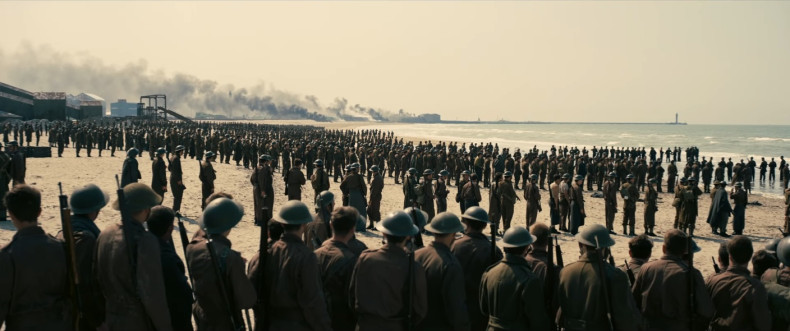 Based on real-life events, the movie takes place during World War II and centres around the Miracle Of Dunkirk. It saw hundreds of thousands of Allied soldiers evacuated from beaches and the harbour, after they were surrounded and cut off by German troops during the Battle of France. The rescue effort was undertaken by the British Navy, as well as huge numbers of small fishing and personal boats called up in to service in mid-1940.
Interestingly, given the subject matter and footage seen so far, Dunkirk is aiming for a summer blockbuster slot rather than the end or beginning of a year which often sees those movies pick up award nods. It will receive a limited release in the US on 19 July 2017, opening more widely on the 21st, reaching big screens in the UK on the latter date too.
For more entertainment news follow us on Twitter @Alistinsider