At least three explosions rocked down town Jakarta at around 10:30am local time (3.30am GMT) on Thursday (14 January), followed by gun battles which are ongoing at the time of publication. National police spokesman, Anton Charliyan, said that early reports indicated the death toll included three police officers and three civilians in what is one of the city's busiest precincts.
According to the latest reports on the series of attacks, which included suicide bombings, at least two blasts occurred near the crossroads of Thamrin Road and Wahid Haysim Street, near the United Nations headquarters and the Sarinah Mall.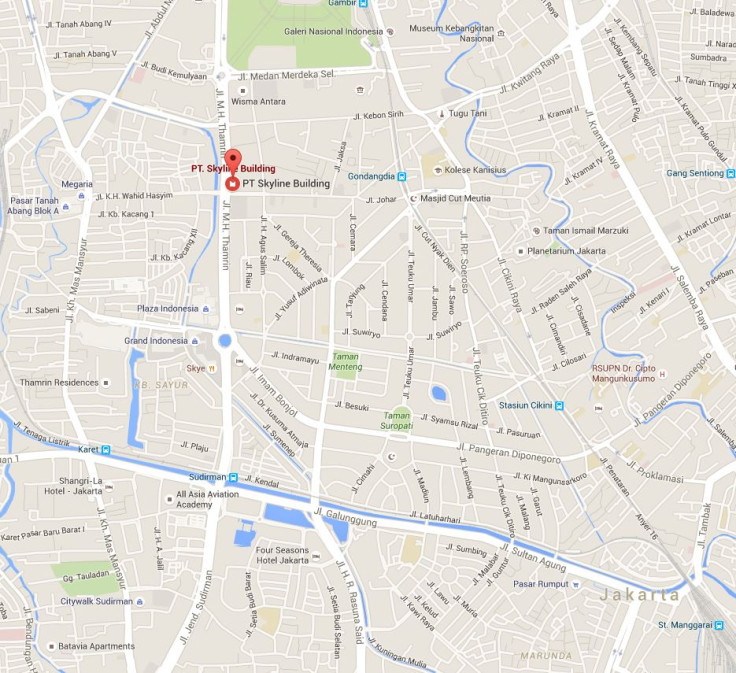 United Nations headquarters
On Twitter, Jeremy Douglas, a United Nations Regional Representative who was in the UN's offices on Thamrin Road described how "a massive bomb went off in front of our new Indonesia offices".
Douglas, tweeting from the scene of the explosion outside the UN headquarters in the city, described how the blast was followed by gunfire, and a "4th bomb and gunfight" and "now 5th and 6th bombing".
Indonesian security forces asked Douglas and colleagues at the UN to "stay away from windows", and told employees "to retreat from lobby".
Starbucks - Sarinah Mall
Suicide bombers also reportedly struck a nearby Starbucks, located inside the Skyline building opposite the Sarinah Mall, a shopping complex located on Thamrin Road. Local media reported between 10 to 14 perpetrators - some on motorbikes, some wielding grenades - were involved in the apparent blasts, but this figure is unconfirmed.
A video, posted on Twitter by Robert Harianto, a news anchor at Metro TV Indonesia, showed the blast outside the Starbucks cafe.
Up to six of the alleged attackers are still reportedly holed up inside the Skyline building on Thamrin Road.
Iqbal Kabid, a spokesman for Jakarta police, told reporters: "We are sterilising the building from basement to top," adding that a gunfights between the attackers and police forces took place in a cinema located in the same building as the Starbucks cafe.
Following the attack, Starbucks issued this statement announcing all their stores across Jakarta will be closed "out of an abundance of caution". The statement read: "We are deeply saddened by the senseless acts that have taken place in Jakarta today; our hearts are with the people of Indonesia. Amidst reports of attacks targeting police posts throughout central Jakarta, initial reports are that an explosion took place close to our store in the Skyline building near one of these police posts.
"One customer sustained injuries and was treated on the scene; our partners (employees) are all confirmed to be safe. This store and all other Starbucks stores in Jakarta will remain closed, out of an abundance of caution, until further notice."
Starbuck's statement that one customer was wounded contradicted a witness statement which described how three suicide bombers had detonated themselves inside the coffee house.