Jakarta attacks: Multiple suicide bomb and gun attacks in Indonesian capital
Indonesian police say militants launched a gun and bomb assault in the centre of Jakarta on Thursday (14 January) followed by continuing gunfire and reports of further blasts. Explosions hit several locations, including a Starbucks cafe at a shopping centre near the presidential palace and UN offices.
Jakarta police spokesman Colonel Muhammad Iqbal said early reports indicated seven people, including four attackers, have been killed. He added that police have recovered the bodies of the attackers, but it is not clear if more remain at large, Associated Press reported.
One witness told AP that at least three suicide bombers exploded themselves in a Starbucks cafe in downtown Jakarta while two gunmen attacked a police post nearby. TVOne, a local television network, reported three other explosions in other parts of the city saying that at least one policeman was killed in addition to the bombers.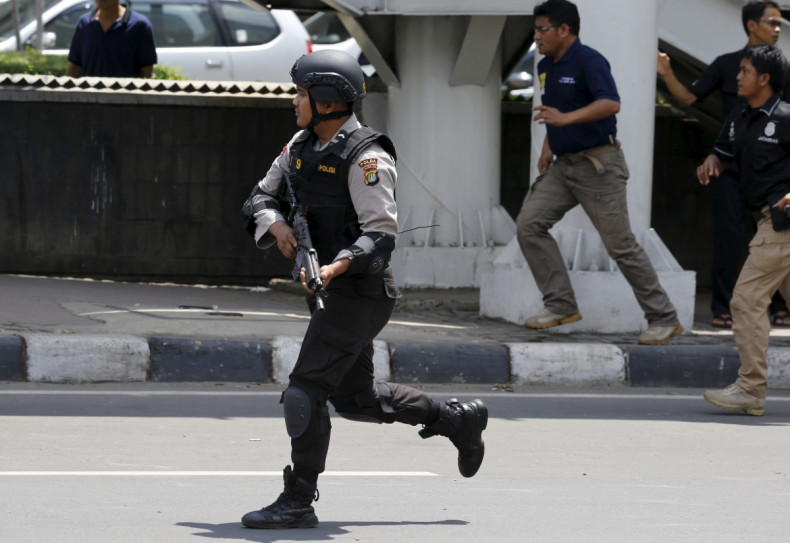 The attacks are ongoing with gunfire being heard in the area and reports that as many as six attackers remained inside a nearby building. The first explosion appeared to have triggered a gun-battle between the attackers and anti-terror police squads, and gunfire could be heard more than 90 minutes later.
Tri Seranto, a bank security guard, told AP he saw at least five attackers, including three suicide bombers who exploded themselves in the Starbucks. TVOne says the explosions occurred in Cikni, Silpi and Kuningan neighborhoods, near the Turkish and Pakistani embassies.
Indonesia has been a victim of several bombing attacks in the past, claimed by Islamic militant groups. The country has been on high alert after authorities said they had foiled a plot by Islamic militants to attack government officials, foreigners and others.
The Jakarta Globe is reporting that police are still looking for gunmen. The local Metro TV said 14 gunmen were involved in the attack.
Indonesian President Joko Widodo has ordered security forces to hunt down the perpetrators and their network behind the attacks in Jakarta. In comments reported by AP Jokowi said: "We express condolence to those who became victims, but we all also condemn the attack that caused restlessness among the community."
This is the first major attack on Jakarta since the 2009 Marriot and Ritz hotels bombings.