Militants launched multiple terror attacks in central Jakarta on Thursday (14 January). Authorities reported six dead, including four of the attackers. The attackers set off explosions at a Starbucks cafe in a bustling shopping area in the Indonesian capital, and waged running gun-battles with police.
The Jakarta Globe is reporting that police are still looking for gunmen, with the local Metro TV saying there were 14 armed militants involved in the attack. This is the first major violence that Indonesia's capital has witnessed since the 2009 bombings of two hotels that killed seven people and injured more than 50.
The national intelligence agency chief, Sutiyoso, claimed that there was no indication that Islamic State (Isis) militants had carried out the attack, although the attacks came shortly after a threat by IS (Daesh) fighters that they were planning their next act of terrorism. The warning had Indonesia on edge for weeks over the threat posed by Islamist militants, with counter-terrorism police launching a crackdown on people with suspected links to IS.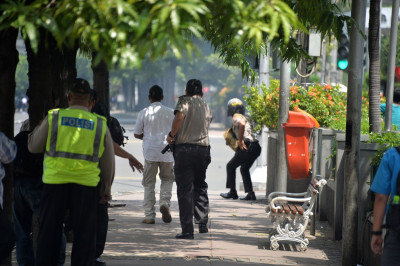 Several hours after the attacks began, witnesses described hearing more gunfire and at least one more explosion – one of which was inside a Starbucks cafe. Indonesian President Joko Widodo has condemned the attacks, saying that "Our nation and our people should not be afraid, we will not be defeated by these acts of terror, I hope the public stay calm. We all are grieving for the fallen victims of this incident."
He has urged the public not to be fearful and or speculate on who was behind the attack.