Ground-breaking pro-gay Jamaican reggae singer Mista Majah P, aka The Maverick and the King of Tolerance, has launched a two-part stinging video rebuke to the homophobia and murder music commonplace throughout Jamaican reggae and dancehall scene.
The footage can be seen in two separate videos, available here and here (although viewers should be warned the clips contain graphic footage). In addition Majah P's latest video single, Karma, is a warning to artists such as Bounty Killer and Sizzla that the hate and violence they sow will rebound on them; citing the personal disasters and disgrace that have befallen many of Jamaica's leading anti-gay performers.
It points out that Buju Banton was sentenced to 10 years' jail for a cocaine conspiracy. Bounty Killer had his luxury car seized by the taxman. Elephant Man was shamed over accusations of stealing electricity. Shabba Ranks' career went into free fall after his declaration that lesbian, gay, bisexual and transgender (LGBT) people deserve crucifixion. Sizzla was hospitalised by a car crash. Vybz Kartel got hit with murder charges.
Majah P's support for the LGBT community isn't a one-off, flash-in-the-pan. He is now working on a new album, Gays Belong In Heaven Too, which will be his third LGBT-affirming album since 2011. The previous two were Tolerance and The Closet Is Open.
Tolerance (2011) was the world's first pro-gay reggae album. Featuring rainbow stripes on the cover, the album includes 13 catchy tracks, variously in support of same-sex marriage and adoption rights for gay couples, as well as attacks on homophobic bullying and the now-defunct US anti-gay military policy, Don't Ask Don't Tell. The songs also feature direct swipes at the anti-gay prejudices of reggae singer Beenie Man and of the former Jamaican Prime Minister Bruce Golding.
Majah P's follow-up album, The Closet Is Open (2014), has another 13 infectious tunes, including a lead track and video with the same title.
The album's songs urge LGBT people to come out and win acceptance. They also appeal to parents not to reject their LGBT children, and condemn the Jamaican tendency to blame gay victims for their own murders.
Such lyrics are unprecedented in the hard-man world of Jamaican reggae and dancehall music, where eight of the best known performers have, for over a decade, made homophobic murder music a staple part of their repertoire - variously inciting and glorifying the shooting, burning, hanging and drowning of LGBT people.
"Boom bye bye, in a batty bwoy head/Rude boy nah promote no nasty man, dem hafi dead," sung Buju Banton on the notorious Boom Bye Bye.
'Dolce and Gabbana are self-confessed Catholic loyalists. They are colluding with the Vatican's homophobia. The current Pope has introduced a more liberal, tolerant style, but the substance of Vatican policy remains implacably hard-line.'
Read Peter Tatchell's piece on Dolce and Gabba's IVF slur here.
'Perhaps they don't like their sexuality and are deflecting onto gay people'
Daringly, Majah P has suggested some of Jamaica's most notorious anti-gay reggae singers might be gay. "Perhaps they don't like their sexuality and deflect their self-hate onto gay people," he suggested.
In 2004, the international Stop Murder Music (SMM) campaign was established jointly by the British LGBT activist group OutRage! and the Jamaican LGBT organisation J-Flag. It coordinated worldwide protests against the singers, including rallies, boycotts and, most effectively, the cancellation of their concerts - which hit them hard financially. This substantial monetary loss eventually prompted seven of them to sign the SMM's Reggae Compassionate Act (RCA), whereby they agreed to stop producing and performing murder music.
Some artists stuck to the agreement; others reneged. However, overall, the volume and viciousness of murder music declined - though it hasn't gone away entirely.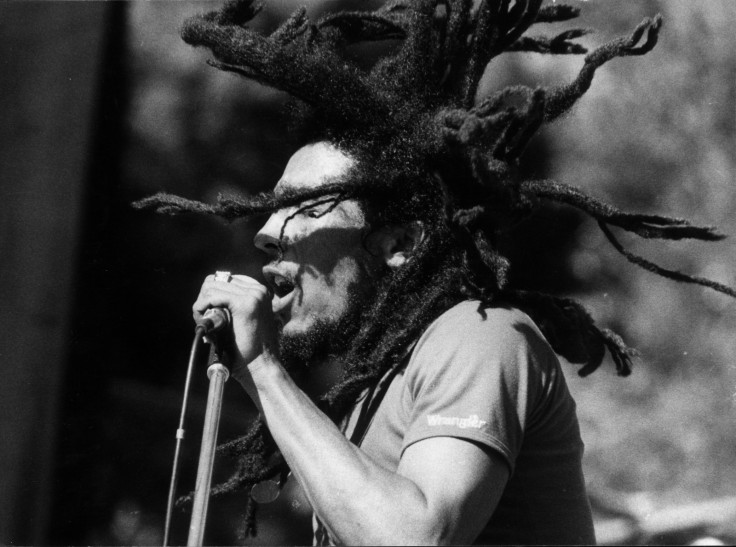 Appalled by the corruption and debasement of reggae's "One Love" ethos, Majah P is challenging homophobic singers in a new and different way - with music that damns and refutes their bigotry. Although not gay, he supports the LGBT communities and gay equality.
Explaining his motivation, the artist said: "I want to counter the myths that all Jamaicans are homophobic and that all reggae music is violent and anti-gay. I'm seeking to challenge ignorance and reach out to gay people.
"My hope is that this will break down the homophobic stance that certain reggae artists and heads of [Jamaican] government have taken towards the LGBT community. Because of the hateful songs that some performers have been singing, gay people have been threatened and harmed. Some foolish people act upon what these artists are preaching because they worship these artists like gods.
"My music is about tolerance. It shows that reggae music can respect gay and lesbian people. Reggae music used to be about love, peace and unity. Now it is too often about bigotry and violence. I want to bring the music back to its progressive roots."
'My message is getting through'
Since releasing his pro-gay music, Majah P has received numerous death threats and has been warned to not return to Jamaica (he currently resides in California).
He's undeterred and defiant, stating that homophobic murder music has given reggae a negative image, which is bad for the music industry and for all reggae artists.
"As long as there is homophobic people, hatred, bigotry, death and no equal rights for the LGBT community I will continue to use my talent and speak out about injustice" Majah P said. "My music is about tolerance, love and equal rights. I am not worried anymore about not getting any support from certain audiences.
"I have received a lot of emails from people who told me they were homophobic and hated gays. But from when they heard my music, watched my videos and saw the message of love, hope and tolerance, they have come to understand that hate and bigotry is wrong and that everyone, no matter what their sexuality, deserves respect.
"My message is getting through. As long as the LGBT communities continue to experience hate, bigotry and no equality, I will be on the front-line to say my piece and voice my opinion....I won't ease up as a person or as a reggae entertainer. I truly believe that the more voices who speak out on this matter the more the bitterness and hate will start to slowly go away.
"I have sustained threats to my life, been black-balled by certain promoters, lost a lot of friends who were never friends in the first place and I have been treated like a person who has contagious disease.
"The homophobic backlash I am not worried about because I know....that homophobia is wrong and that I am on the right side of history. If I can save one life and help someone to overcome their hate for gays that is my greatest reward."
Words well spoken by a pioneering performer who is bravely breaking the homophobic mould of much Jamaican reggae and dancehall music. Long may he continue to assert that "One Love" includes LGBT people.
For more information about the Peter Tatchell Foundation's human rights work, to receive email bulletins or to make a donation: www.PeterTatchellFoundation.org