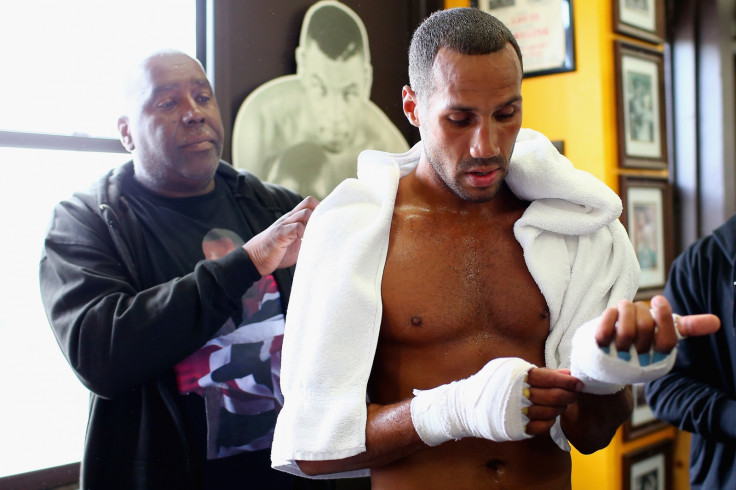 James DeGale crosses the Atlantic for the first time in his professional career to battle American Andre "The Matrix" Dirrell for the IBF super-middleweight title – the belt vacated by Carl Froch back in February – at the Agganis Arena in Boston, Massachusetts.
Where to watch
DeGale v Dirrell is available to watch live on Sky Sports 1 HD with the broadcast scheduled to get underway at 8pm BST on 23 May.
The main event is slated to start at approximately 9.30pm, although as ever with boxing it might be wise to take that with a slight pinch of salt.
Overview
DeGale, the 2008 Olympic champion, is hoping to make history as the very first boxer from the UK to add a world title to a gold medal but he is certainly not expected to have it all his own way against an evenly matched opponent in southpaw Dirrell.
This fight appears to be well-balanced and the winner will likely be determined by who enters the fight with the superior gameplan.
Dirrell has had one previous world title bout, which he lost narrowly to Froch in Nottingham in October 2009. The split decision defeat to "The Cobra" was the only one of his career to date. DeGale's one solitary loss, meanwhile, came against rival George Groves at the O2 Arena in 2011.
What they've said
James DeGale: "Andre says the belt doesn't mean anything to him in the fight – well, the belt means everything to me and more. I am here to make history and it doesn't happen without that title.
"I could win on Saturday night and retire a happy man – that's how much I want to beat Andre Dirrell. But when I do win that title, I am going for the rest of the belts, creating a lasting legacy for my country, my fans and myself.
"Andre is a classy fighter and he showed in the press conference that he is a classy guy too – when two fighters who believe in their ability 100% and know they are going to win a fight, it is going to be explosive.
"There's nothing but respect between us, but ultimately, we're going to take each other to dark territory on Saturday night, it's going to be a brutal battle – and one that I am going to win."
Andre Dirrell: "A title means everything. It completes you as a fighter. That's the top of the food chain in this sport, and that's the pedestal we're all trying to reach – world champion. Everybody wants to be a world champion.
"The greats had it and now we want it. It would mean more for my city, my family and my friends, and it's something I'll always be able to look back it. It would put me in the record books for life.
"DeGale is not quiet. Today he's chilling, maybe because he's a little out of his comfort zone. But there's a lot of tension when you're standing right there next to your opponent. He might just be a little cranky today.
"I like to lighten the mood and stay comfortable. This is all a part of the game. Let's have fun now. It's ass-kicking time when we get in that ring, but outside it's all love.
"There was a time when I didn't want to do interviews. I didn't want to go to fights. I didn't want to hear fans online and on social media. I closed all them down because I didn't want to hear people ask, 'When are you fighting again? Talking about talent wasted, or saying I'm glad he's gone.' It hurt because there was nothing I could do. I was powerless even with all the power in the world."
Records
DeGale - 21 fights, 20 wins (14 via knockout)
(W) - Marco Antonio Periban - technical knockout - November 2014
(W) - Brandon Gonzales - technical knockout - May 2014
(W) - Gevorg Khatchikian - technical knockout - March 2014
Dirrell - 25 fights, 24 wins (16 via knockout)
(W) - Derek Edwards - unanimous points decision - December 2014
(W) - Nick Brinson - technical knockout - October 2014
(W) - Vladine Biosse - technical knockout - August 2014
Prediction
It is a really tough one to call but DeGale has spoken repeatedly over recent months of his burning desire to enter the history books and we think he will do so after a particularly tough examination of his world title credentials. DeGale via a split decision.
Undercard
Danny O'Connor v Chris Gilbert
Edwin Rodriguez v Craig Baker
Gary O'Sullivan v Melvin Betancourt
Ryan Kielczweski v Anthony Napunyi
Logan McGuinness v Gerardo Cuevas
Immanuel Aleem v David Toribio
Jonathan Guzman v Christian Esquivel
Danny Kelly v Curtis Lee Tate
Antonio Russell v Brandon Garvin
Edwin Espinal v Alvaro Enriquez