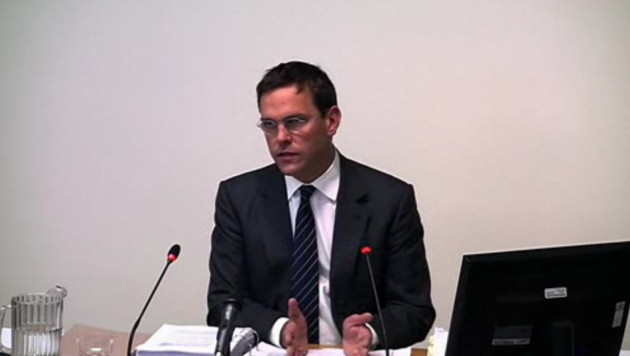 James Murdoch has remained defiant about his lack of knowledge of the extent of phone hacking that took place at the News of the World.
Murdoch, who resigned as CEO of British Sky Broadcasting (BSkyB) earlier this month and as chairman of News Group Newspapers in November, suggested he had been kept in the dark over fears he would tell the paper to "cut out the cancer".
Giving evidence at the Leveson Inquiry into press ethics, Murdoch appeared keen to maintain a distance between himself and practice at the newspapers when he joined News International in 2007.
When questioned by counsel Robert Jay on the phone hacking settlement made to Gordon Taylor and the arrests of royal reporter Clive Goodman and private investigator Glenn Mulcaire, Murdoch claimed he was given repeated assurances that concerns over widespread malpractice had been investigated and found lacking.
Frequently surprising Jay with his apparent lack of grasp of proceedings at the News of the World, Murdoch said: "By the time I arrived the issue of 2006/2007 [hacking allegations] was packed away. The company's defence had been in place formally for a while."
He claimed that he left the Taylor settlement negotiations to News International lawyer Tom Crone and editor Colin Myler, even allowing them to make a £350,000 settlement attempt without his authority, taken from the NotW settlement budget which he described as "a million and change".
Murdoch repeated his assertion that he was not made aware of the "For Neville" email, which gave evidence of widespread hacking at the paper, during a meeting with Myler and Crone - a claim that does not sit with the pair's own evidence.
Jay claimed that Murdoch's evidence either showed that there was a cover-up of links with Mulcaire and other reporters at the paper, or he was not told and did not read his emails properly, pointing to a failure of governance at the company.
Murdoch disagreed, repeating that he was frequently assured that investigations had been made and no evidence found.
"I was given the same assurances, I have been very consistent about that," he said.
"I was not given information to go and turn over a whole lot of stones that I was told had already been turned over."
He said had he been informed of the issue he would have been expected to tell the NotW to "cut out the cancer", and believed that "there was some desire not to do that".
Lord Justice Leveson asked whether Murdoch looked into the "adequacy of the internal governance" at News International following Goodmans' arrest.
Murdoch replied: "I couldn't say I used the exact language of that question, but it was made clear to me that in that newsroom it had not been tight enough and that's why a new editor [Myler] was brought in who I thought had no skin in the game in that past.
"The issue of newsroom governance was really an issue for the editor and the legal manager to be responsible for. They were clear that they had strengthened governance in order to catch this kind of thing in the future."
Throughout the morning's proceedings Murdoch was keen to stress the distance between himself and day to day practice of newspapers.
Speaking of the NotW, he said: "I wouldn't say that I read all of it, but I read it from time to time." He said that he would occasionally "familiarise" himself with the contents of the Sun.
When asked by Jay whether he had held any concerns over the ethics of tabloid journalism, Murdoch made it clear that these issues were not in his hands.
He said: "I think that the ethical and legal risks was something that was very much in the hands of editor...I wasn't in the business of deciding what to put in the paper,
"I was given assurances [by NotW] that sometimes porved to be wrong with response to the risks that they were taking."
He claimed that he was passionate about the ethics of a company's enterprise and its dealings with its customers. He said: "I feel very passionate about that.
"The way we do business is an important part of how we connect with our customers. It's important to note that the profitability of the News of the World did not save it."