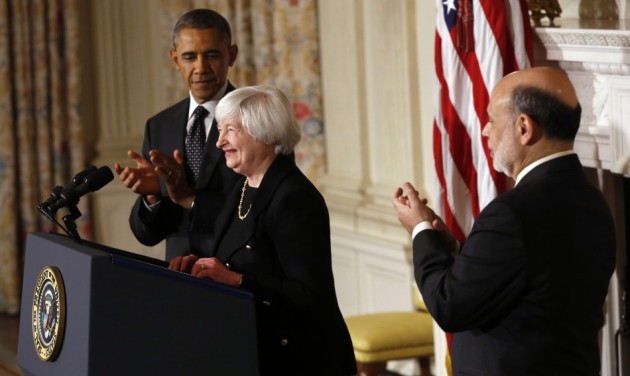 The Federal Reserve's vice chairperson Janet Yellen pledged to focus on job creation after she was nominated by President Barack Obama to take over from Ben Bernanke.
In a speech, following the announcement that Obama has given his official nod towards the appointed, which is still subject to US senate approval, Yellen said strengthening the economic recovery and boosting employment would be her top priorities.
"While we have made progress, we have farther to go. The mandate of the Federal Reserve is to serve all the American people, and too many Americans still can't find a job and worry how they'll pay their bills and provide for their families," said Yellen.
If Yellen wins the backing of the Senate, she will make history as the first woman to be appointed to the post.
Yellen's Focus
Yellen signalled that she will put more weight on the employment side of the Fed's dual mandate to foster jobs growth and price stability.
It is expected Yellen will continue Bernanke's aggressive stimulus programme where the Federal Reserve buys $85bn (£52.9bn, €62.6bn) worth of assets per month to prop up the economy.
The dovish members of the Fed's board, including Yellen, have made it clear that these asset purchases will only scale back once the unemployment rate drops to 6.5%.
She was one of the main designers of the Fed's extremely dovish monetary policy implemented since the collapse of Lehman Brothers in September 2008 to soften the fallout from the financial crisis.
Political Malaise
Yellen's nomination from Obama comes at a time of intense brinkmanship in Washington DC which might put the United States's economic recovery at stake.
Obama urged the Senate to approve Yellen's nomination as soon as possible.
"Given the urgent economic challenges facing our nation, I urge the Senate to confirm Janet without delay."
Expert Reaction
"Initially, her main job will be to maintain the independence of the Fed and public confidence that the Fed will produce the best monetary policy possible," said White & Case Banking Partner Ernie Patrikis, who is a former general counsel of the New York Federal Reserve and alternate member of the Federal Open Market Committee.
"In the short run, we will not see any major drastic changes under the new chairman. The supertanker is on course, which is to figure out how to get the economy to continue to roll and not have the Fed harm the economy in any way."