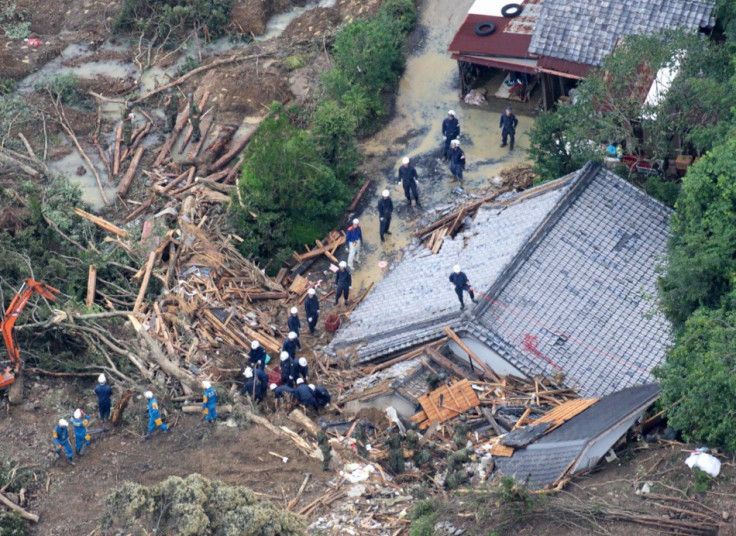 Japanese rescue teams have resumed the search as thousands were stranded and more than 50 people are still missing after Typhoon Talas hit the west of the country, triggering floods and landslides that killed at least 26 people on Shikoku Island on Saturday.
Talas is the most destructive typhoon to strick Japan since 2004 when 98 people were killed or left missing, and the BBC reports that villages have been cut off with the bad weather in the mountains making it impossible to reach them by helicopter.
Over the week-end, authorities evacuated close to one million people from the region as winds hit up to 68mph on Sunday.
The Typhoon has had disastrous consequences for Japan, a country still recovering from the Tsunami that devastated the country in March, and entire villages have been flooded and bridges and houses destroyed.
According to reports, one landslide buried three homes, killing one woman and leaving four others missing in Wakayama prefecture while seven people were reported missing after their homes were swept down a river in Nara prefecture.
Also, more than 16,000 residents were ordered to evacuate from the Kii Peninsula, and another nearly 30,000 residents were encouraged to evacuate voluntarily.
The Typhoon Talas has now moved into the Sea of Japan (East Sea), Japan's Meteorological Agency said on Sunday, warning that heavy rains and strong winds would still continue.
The latest natural disaster will be the first major test for new Prime Minister Yoshihiko Noda, who was sworn in only one day before the storm made landfall.
After the public government criticising the previous government for its handling of the aftermath of the Tsunami and the Fukushima plant, Noda proved he is aware of the challenge that stands before him, vowing to provide assistance as speedily and efficiently as possible saying "We will do everything we can to rescue people and search for the missing."
The Japanese government has set up an emergency task force for search-and-rescue operations, and to begin reconstruction of damaged communities.