If it's spring in Tokyo, it must be cherry blossom season. Every year thousands of people flock to parks to admire the flowering trees. The cherry tree, or Sakura, is seen as an important part of the Japanese identity. The blooms symbolise new beginnings and fresh starts. Schools and companies begin their new year in spring, around the time when the blossoms are in full bloom.
The Japanese tradition of hanami – or cherry blossom viewing picnic – has survived relatively unchanged since about the eighth century. Friends and family get together in city parks for parties that last well into the night under the pale pink blossom.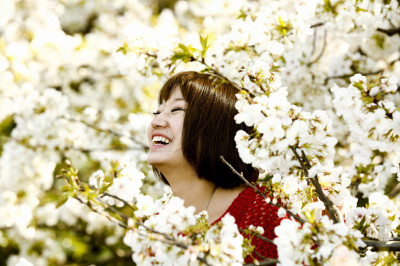 The arrival of the cherry blossom is a national obsession, with news reports providing constant updates on exactly where and when the flowers will appear. This year the Japan Meteorological Agency (JMA) made the official announcement on 21 March – five days earlier than average and two days earlier than last year. The season officially kicks off when an official confirms at least five or six blossoms have bloomed on a specific cherry blossom tree at Tokyo Yasukuni shrine.