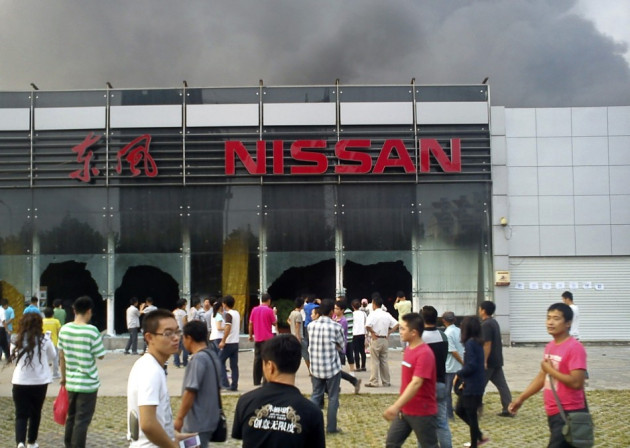 The shares of some of the Japanese firms which have been forced to suspend their businesses in China following protests have fallen in Tokyo as the crisis threatens to derail the trade relationship between the two countries.
Nissan shares slumped 5.01 percent while Honda fell 2.51 percent. Fast Retailing was also down, by 6.97 percent.
The protests have been sparked by Japan's purchase of islands in the East China Sea which China claims to be its own.
Many major Japanese firms have restricted their operations in China following the protests on concerns of safety to its staff and property.
Honda and Nissan halted output for two days while electronic companies Panasonic, Sony and the camera maker Canon have limited their work in the country. Toyota and Mazda have also suspended operations.
The companies may be keeping a close watch on the situation on the ground in order to get their businesses back to normal.
Fears of further escalation of protests have prompted worries of prolonged closure of Japanese firms in China.
"The escalating dispute is adding one more layer of uncertainty," Liu Li-Gang, a Hong Kong-based economist at Australia & New Zealand Banking Group Ltd (ANZ), told Bloomberg.
"Japan is now more reliant on China for economic growth than vice versa. Its already weak economic recovery may falter. China will suffer less."
China was Japan's biggest export market in 2011, but the latter was only the fourth largest market of the former.
Bloomberg reported that China imported Japanese goods worth $194.6bn in the previous year while its exports stood at $148.3bn.
The crisis has affected the travel industry as well. All Nippon Airways has revealed cancellations of 3,800 seats from Japan and 15,000 seats from China on booking through November.
Chinese low-cost carrier Spring Airlines has cancelled 10 flights for group trips due to low demand caused by the tensions.