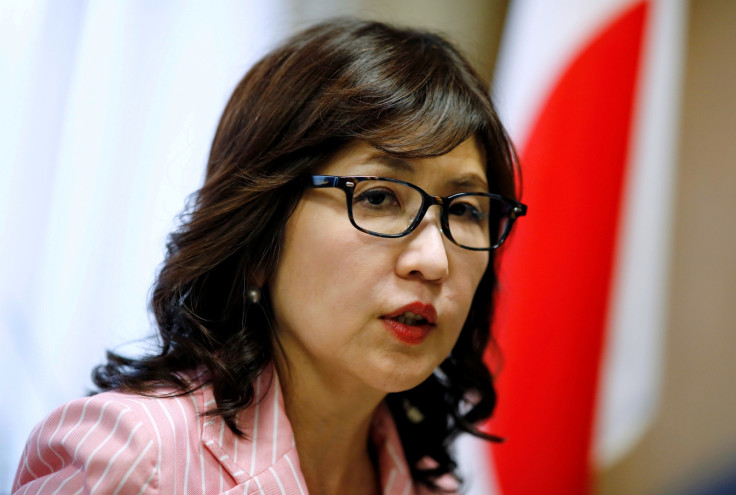 Japan's embattled Defence Minister Tomomi Inada has quit ending months-long allegations of cover-ups involving the country's troops who serve in the South Sudan. Prime Minister Shinzo Abe, on Friday (28 July) accepted his protege's resignation and apologised to the Japanese public.
Inada's resignation is a result of long-brewing politico-military scandal, which saw tampering of military documents, and also coincides publication of an internal investigation report. There are suspicions that the Japanese defence ministry officials attempted to hide log entries, which showed potential deterioration of security situation in South Sudan, where Japanese personnel are stationed as part of UN peacekeeping mission. Inada has so far any denied any hand in the entire scandal, which broke out in December 2016.
"I decided to resign as defence minister. I submitted my resignation to the prime minister and it was accepted," Inada, who shares Abe's conservative views, told reporters. She took the defence ministry portfolio in August 2016 at a time of her rising political prominence and was even seen as Abe's successor. Her year-long stint was dotted with controversies.
Abe's close confidante's resignation also comes a week ahead of an expected cabinet reshuffle, which would have likely seen Inada being reassigned.
"I apologise from the bottom of my heart to the people for this situation in which a minister resigns," Abe told immediately after Inada stepped down. Inada became the sixth minister to resign since Abe came to power in December 2012.
Abe has faced stinging criticism both from the governing and opposition parties for throwing his weight behind Inada despite alleged incompetence and a series of missteps.
Though it is still unclear who will take over the defence ministry, there is speculation Abe might bring in an old hand such as Itsunori Onodera. Foreign Minister Fumio Kishida is temporarily in charge of the defence ministry after Inada quit office.