Japanese PM Shinzo Abe denies accusations of favouring old friend as his popularity slips
The scandal has led to a decline in Abe's popularity ratings, which has gone below 30% in some opinion polls.
Japanese Prime Minister Shinzo Abe has denied accusations that he favoured his long-time friend Kotaro Kake, who runs an educational institution in the country.
The prime minister, whose popularity ratings are on a decline following the emergence of the scandal, also said that he neither took any favours from his friend nor did the latter ask for it ever.
"There was no request or lobbying regarding the establishment of a new veterinary school," Abe told a special session of parliament's lower house budget committee on Monday (24 July), referring to the scandal centring around approval granted to the new school in a special economic zone.
His old friend Kake is the director of an educational institution called Kake Gakuen. The two have known each other since they were students.
Abe insisted that it was not surprising to see people having doubts about him and his friend. He explained that Kake never sought any favours from him, Reuters reported.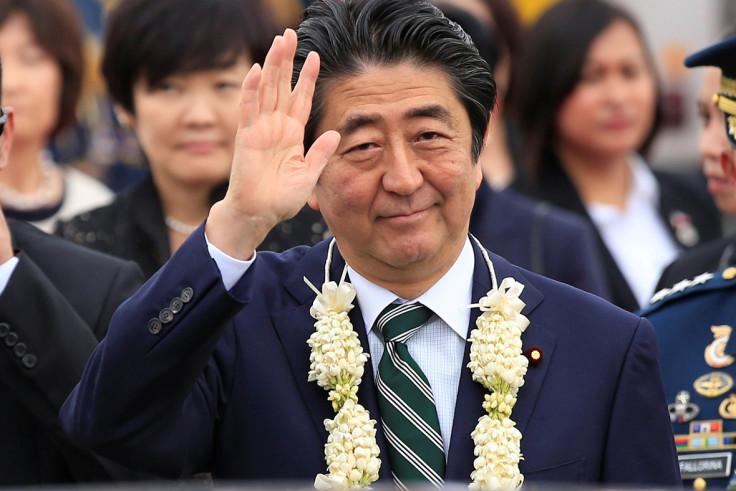 When asked if he had intervened in the approval process for the new veterinary school in the special economic zone, Abe said: "I have never issued instructions regarding specific cases."
Abe's current term ends in September 2018 and the scandal has cast doubts on his re-election for a new term. Opposition parties are reportedly trying to capitalise on his declining ratings, which has plunged below 30% in some opinion polls.
Abe, meanwhile, pledged to regain public trust by "producing results", and giving priority to the economy and diplomacy. He admitted that the government's previous efforts to allay public concern proved inadequate.
"I want to accept this sincerely as the voice of the people," he said of the rating slump.
Meanwhile, the prime minister has also turned down calls for the removal of Defence Minister Tomomi Inada over media reports of direct involvement in a ministry cover-up of documents related to the scandal.
The opposition parties, however, expressed dissatisfaction over Abe's denial. "The people's doubts are deepening," Democratic Party member Yuichiro Tamaki told the panel, adding that they were not convinced with Abe's arguments.
During the panel session, Abe's aide Hiroto Izumi clashed with former top education ministry official Kihei Maekawa, who levelled allegations against the government that they distorted the approval process for the veterinary school. Izumi denied Maekawa's accusations.
© Copyright IBTimes 2023. All rights reserved.