Japan elections: Win paves way for Shinzo Abe to implement constitutional reforms
Abe's ruling coalition secures two thirds majority in the upper house of parliament.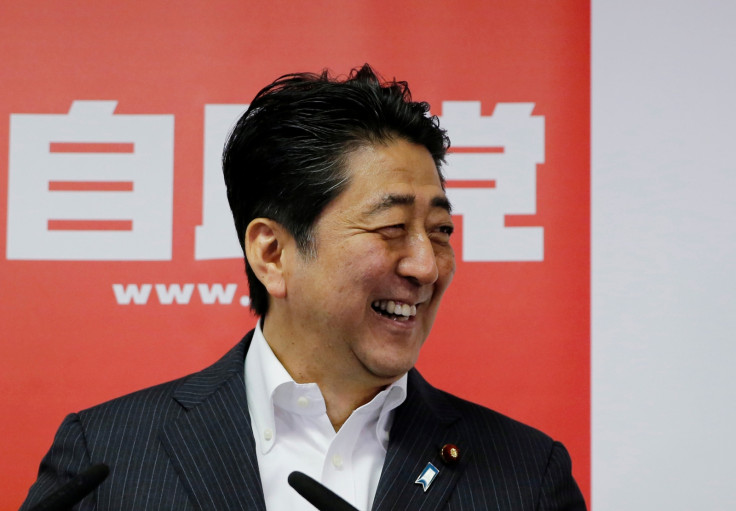 After an emphatic win in Sunday's election (10 July) to the upper house of parliament, Japan's Prime Minister Shinzo Abe has called for discussions with his lawmakers to decide on amending the country's post-World War II pacifist constitution, dubbed as the most controversial move in Japan's history.
Abe has secured the support of his coalition partners and other pro-amendment forces. His Liberal Democratic Party (LDP) has won 56 out of 121 seats, half of the 242 seats that were up for grabs, official results showed. The LDP's ally, the Buddhist-backed Komeito party, has won 14 seats, giving the coalition a tally of 70 seats.
Although the election was not meant to impact Abe's position as prime minister, the two thirds majority in parliament is expected to pave the way for constitutional reforms.
Abe has been trying to push through a set of radical economic policies ever since he came to power in 2012.
Modifying the US-imposed constitution will now permit Japan's self-defence forces to act more like a conventional army. The war-renouncing Article 9 of the constitution has been preventing Japan from using its troops to settle international conflicts. It further constrains the movement of its naval and air forces to a strictly defensive role.
"We hope to question the public on an amendment in a national referendum after a convergence of views in discussions [at the Diet constitution commissions]," Kyodo news quoted Abe as saying on a television programme.
"I have two more years to my term [as LDP president] and this is a goal of the LDP, so I want to address it calmly," he added. "I'm relieved that we appear to have cleared our goal."
However, Komeito seemed less eager than Abe's party on constitutional reforms as its leader Natsuo Yamaguchi has said that he is not expecting the issue to "suddenly make progress".
A parliamentary panel will decide how the charter should be revised, which will then be put to a referendum. However, public support for pacifism seems to remain high in the country, local media reports said.
"The public is old. It doesn't want change," he said. "It doesn't want what Japan really needs more structural reform, less money for the old, and more funding for families and children," said Robert Dujarric, professor from Temple University, Japan.
Sunday's electoral turnout was estimated at 54.7%, nearly 2% higher compared to the 2013 upper house election, according to Kyodo news. Besides, for the first time Japan allowed 18- and 19-year-olds to vote.
© Copyright IBTimes 2023. All rights reserved.