Dramatic video footage has been released showing a Joso City couple and their two dogs rescued from a rooftop by helicopter after vast swathes of eastern Japan suffered under heavy flooding.
The couple and their canines were just some of the many Joso city residents rescued by Japan's Self-Defence Force (SDF) on 10 September after freak torrential rain caused the Kinugawa River to burst its banks and inundate the area.
Rescuers winched down from a helicopter to lift up the woman and a dog, and then subsequently, the man and the remaining dog, as water gushed through and around their house.
Record-breaking rain prompted authorities to issue "rare weather warnings" for 5 million people in a wide swathe of eastern Japan, with a further 800,000 people advised to evacuate.
Some areas received more than twice their usual monthly September rain in just 48 hours by Thursday, after Tropical Storm Etau cut across the main island of Honshu on 9 September. Rainfall reached 600mm (24 inches) in one part of Ibaraki prefecture, where Joso is located.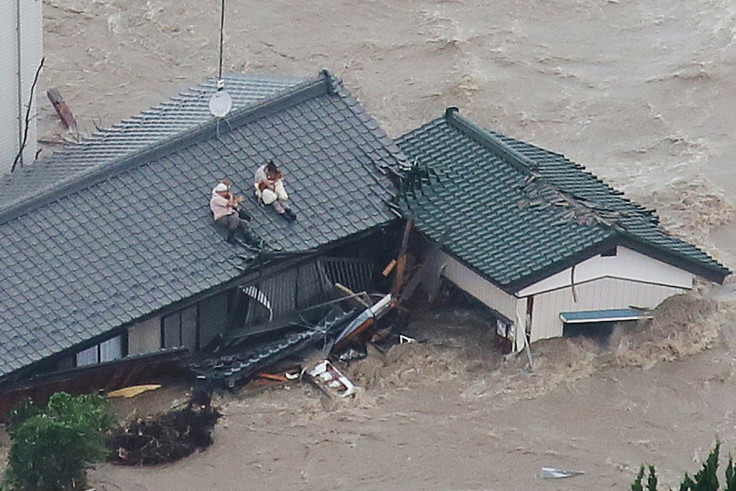 Japan's NHK said two people are missing in the floods. Rescuers were looking for a 63-year old woman after a landslide hit her home early on Thursday, and a man in his 70s, believed to be trapped in his house as it was swept away.
Japanese Prime Minister Shinzo Abe said: "The government will work as one to prioritize the safety of the people and do our best to prevent any further disaster."
Japan has worked to improve its disaster response measures in the wake of the country's 2011 earthquake and tsunami which left 20,000 dead. The massive tremors precipitated the Fukushima nuclear disaster, the effects of which continue more than four years later.
The Japan Meterological Agency warned of more rainfall of at least 200mm in parts of eastern Japan. The rain is predicted to stop on 11 September.