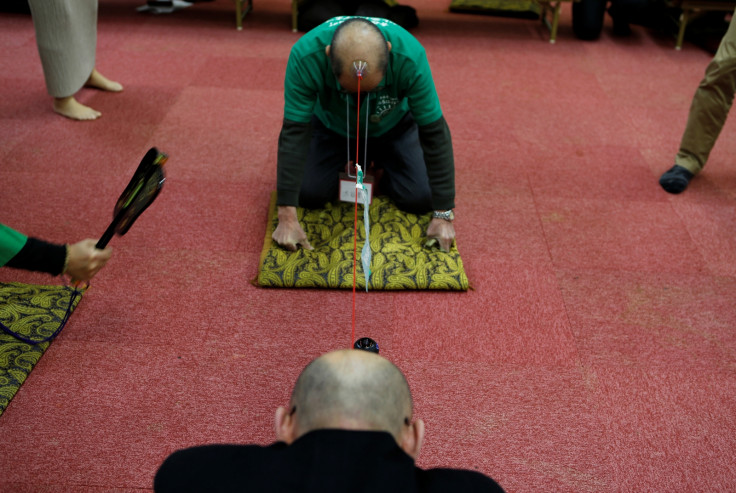 In a unique way to show off their follicly-challenged head, more than 30 bald men in Japan took part in a competition as a way to celebrate their baldness. The event was held on 22 February at a hot spring facility in Tsuruta town of Aomori prefecture.
Members of the city's Bald Men Club stuck suction cups on their heads and played a game of tug-of-war. The suction cup is attached to a single red rope to each of the two competing men's heads. The men then have to try and pull the cup off of their opponent's head.
While some may shy away for being bald, this activity reportedly aims not only to celebrate the "hairless-ness", but also to have a positive outlook towards being bald, according to Reuters.
The club was founded in 1989 and has since attracted around 65 members from all over the country. According to the description on its website, the club intends to encourage people to "view baldness in a positive manner, to have fun, and to brighten the world with our shiny heads".
"My head still hurts. I think I need to ice it!" 43-year-old Toshiyuki Ogasawara, one of the participants said.
Another participant, Masatomo Sasaki, said: "I feel proud. Or maybe I should say, I feel good about being a bald man. And that is thanks to this bald men's club."
Sasaki said he used to feel less confident about himself due to his baldness, but now he is able to carry off the slaphead look well. He started losing his hair when he was 40.
The Bald Men Club is hosts the tug-of-war event every year on 22 February. The chairman of the club wishes he could bring about a change through this event and achieve something much bigger.
"I want all the bald men all over the world to gather here so we can organise a bald men's Olympic tournament," Teijiro Sugo, 70, said.