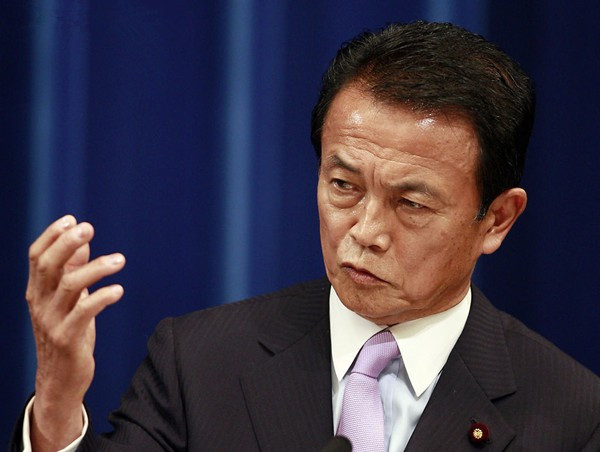 Japanese Finance Minister Taro Aso predicted there would be problems with bitcoin and that it was only matter of time until government intervention was required.
His comments to AFP come in response to the collapse of Tokyo-based bitcoin exchange MtGox.
"I was thinking that this sort of thing won't last long," Aso was quoted as saying by the news agency.
"I was thinking it would collapse sometime. Japan is overwhelmingly advanced in this field. In this sense, I was thinking that we might face a situation where Japan has to act, but I'd say it came earlier than I thought."
Aso added that police and government ministries would work together to solve the issues raised by the MtGox episode.
"We will quickly work it out," he said, adding: "It is not a currency that all the people recognise."
Earlier, Japan's Vice Finance Minister Jiro Aichi said the government will look into the all the facts of the case before giving a response. He added that any regulation of bitcoin requires cooperation among nations to avoid loopholes.
US Fed Not to Regulate Bitcoin
Aso's comments come after Janet Yellen, the head of US Federal Reserve, said the central bank has now power to regulate bitcoin.
"This is a payment innovation that is taking place entirely outside of the banking industry," she said. "The Fed doesn't have authority with respect to bitcoin."
Yellen added that it is not easy to regulate bitcoin as it is outside the banking system, and has no centralised authority behind it.
MtGox Debacle
The site of Tokyo-based MtGox, once the world's biggest exchange for the bitcoin virtual currency, went offline in a major blow to the crypto-currency, which shed more than 20% of its value on 25 February.
The exchange has had over 744,000 bitcoins stolen over two years. The stolen bitcoins represent about 6% of the 12.4 million in circulation.
MtGox has just announced that it is filing for bankruptcy protection, during a new conference at the Tokyo District Court. A lawyer for the exchange said MtGox had outstanding debt of about 6.5 billion Yen (£38m).
Japanese and US authorities have stated separate investigation on the closure of the exchange, which has consumers' bitcoin deposits worth several millions of dollars.