Key Features:
Bluetooth Smart
iOS and Android apps
Black or Red colours
19-25g
Price as Reviewed: £130
Jawbone Up24 Review
Jawbone was among the first companies to break into the casual fitness tracker market, along with Fitbit and Nike. The original UP fitness tracker was stylish and didn't scream I'M A FITNESS FANATIC like some on the market.
However the band lacked Bluetooth connectivity and only worked with Apple devices. The band also lacked a display, meaning there was no way for you to see at a glance how close to meeting your daily goals you were - or just to see what time it was.
These drawbacks meant the UP lacked widespread appeal.
Two years later Jawbone is back with the updated UP24 which it is hoping will build on the success of the first and appeal to a much wider audience.
---
UP24: Design
---
Trying to tell the difference between the original UP and the UP24 visually is difficult. The new band uses the same design languages as the first and the bands' outward appearances are virtually identical.

The UP24 comes in black (Onyx) or red (Persimmon) varieties and uses the same textured rubber covering as the original. The band also features a clasp-less design, meaning you need to choose carefully between the small, medium or large options when buying the smart band.
The UP24 is lightweight (19g/22g/23g for small, medium or large) and the inherent bendiness of the band means it fit my wrist comfortably without me being constantly aware that I was wearing it.
The band is water resistant so there is no need to take it off in the shower, though Jawbone suggests not to submerge it meaning swimming is probably out of the question.
The band is also durable, surviving multiple games of football during my testing.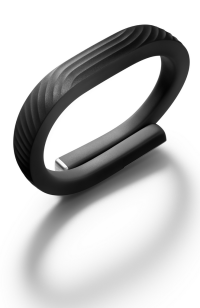 And this is potentially one of the biggest attractions of the band. It is stylish and comfortable meaning you never feel like you want to take it off.
---
UP24: Battery and Bluetooth
---
The quoted battery life of seven days also lived up to promise. The original UP uses a 3.5mm headphone jack housed under the metallic end of the band. The UP24 uses a 2.5mm connection for charging, though data transfer is now done via Bluetooth.
The addition of Bluetooth is the biggest improvement made by Jawbone with the UP24. It means you can sync your data wirelessly with your smartphone or tablet rather than having to plug it into a headphone jack.
The UP24 uses Bluetooth Smart meaning it can constantly connect with your smartphone to monitor your activity throughout the day, allowing it to give you vibrating alerts when you have been idle for too long (the frequency of which you can manage from the app).
---
UP24: Display (or lack of it)
---
If the addition of Bluetooth is the biggest plus for the new band, the failure to add a display is the biggest disappointment.
I can understand Jawbone not wanting to sully the simplicity of the UP24 design, as well as saving battery life, but the hassle of having to get your smarpthone out of your pocket, unlock it, and fire up the Jawbone app just to see how close to your daily target you are is really frustrating.
If I had the choice, I would rather recharge my UP24 every four or five days and have a display.
---
UP24: Sleep monitoring and Silent Alarm
---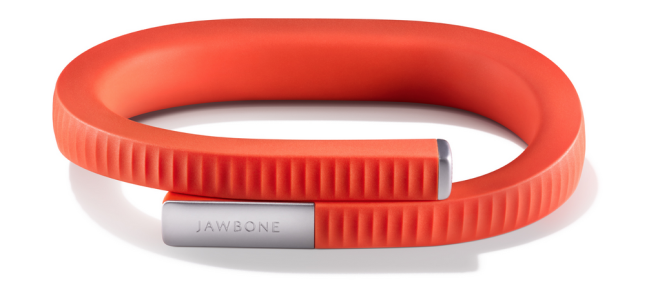 As well as tracking your steps, distance and calories burnt, the Jawbone UP24 can monitor your sleep. A long press of the square metallic button on the end of the band will put the UP24 into sleep mode and a similar press in the morning will take it out of sleep mode again.
The result is a report which gives you various pieces of information about your night's sleep, including how long it took you to get to sleep, how long you slept for and how much deep and light sleep you get.
The band also acts as an alarm clock, vibrating silently at the set time. Initially this is a bit of a shock to the system, but once you are used to it, it is a brilliant feature and means your partner won't be annoyed with your alarm going off multiple times.
There is no snooze option but you can set up to four different alarm times, each of which can be turned off with a quick press of the band's button.
The band also knows when the best time to nudge you awake is, and you can set a time window for the alarm, so the UP24 can wake you up when you are in lighter sleep rather than deep sleep.
---
UP24: App for Android and iOS
---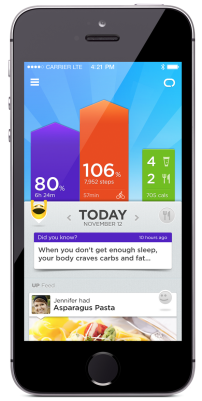 As well as adding features to the wristband, Jawbone has updated its apps, which is now available on Android as well as iOS. The app allows you to easily sync your UP24, and having set up an account (or signed in with an existing one) you are good to go.
It's a lot simpler just using your smartphone to do all this, though there is a desktop app available too.
The new app is bright and colourful and the default view (right) gives you a snapshot of your day so far, including sleep and activity.
It also offers up tailored pieces of advice to keep you motivated - for example I got "Using your phone just before bed decreases chance of good night's sleep" which was pretty much on-the-money. There is also a scrollable activity log and the ability to manually log everything you eat.
This final feature is extensive (you can just scan barcodes of food you are eating to automatically input nutritional value) and in-depth, but having tried it for a few days I simply gave up as most of the predefined food is US-centric and I just couldn't be bothered.
The UP24 seems like a band that would appeal to a casual user more than someone fanatical about monitoring their activity and eating habits so I imagine most people won't ever use this feature.
---
UP24: The Competition - Nike, Fitbit etc
---
The UP24 is no longer one of just a few fitness trackers on the market. As well as the continued competition from Fitbit and Nike, companies like Garmin, Sony, LG and Samsung are now all getting in on the growing trend for tracking our daily movements.
The biggest challenge however remains to come from established players like Nike and Fitbit. The latter launched the Fitibt Force last year in the US, but has since had to remove it from the market following complaints of skin irritation.
When it does come back on the market, both it and Nike's revamped Fuelband SE will feature displays which the UP24 lacks, somehting which could put off a lot of potential buyers.
---
UP24: Value and Verdict
---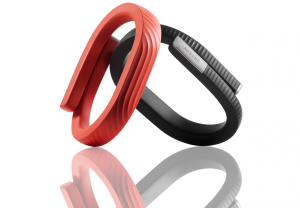 At £130, the UP24 is certainly not cheap - there are less expensive options out there from Sony and Garmin - but its premium design and build quality elevate it above a lot of the competition.
The UP24 is extremely comfortable and is stylish enough to not obviously look like a fitness tracker. The addition of Bluetooth is a huge step forward; the redesigned app is easy to use and the need to charge it just once a week is a big benefit.
But, and it's a big BUT, the lack of a display will immediately rule it out for a lot of people as it means you still need to unlock your phone to see your progress.
Score: 8/10