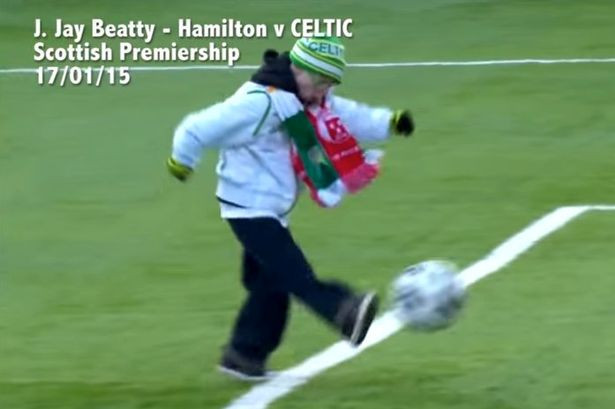 A young Celtic fan with Down's syndrome has won the Scottish Premier League's goal of the month for January after receiving 97% of the votes.
Eleven-year old-Jay Beatty won the competition for his penalty kick at the half time during Celtic's game at Hamilton Academicals.
The boy, known as Wee Jay, was given the opportunity after he asked Santa Claus if he could score for Celtic then celebrate like his hero, former forward Georgios Samaras.
Wee Jay first became something of a celebrity after Samaras plucked him from the crowds and took him on a lap of honour during Celtic's title winning celebration at the end of last season.
Since then, former Celtic manager Neil Lennon, also gave Jay his winner's medal and the youngster also received a trophy on behalf of Samaras at the Grand Gala of El Mundo Deportivo.
The Greek striker took time out from training to announce that the 11-year-old had won January's goal of the month in a landslide victory with a personal message.
He said: "Jay my friend, me and you are the same, scoring goals. I'm very happy to announce that you won the goal of the month.
"Well done pal, great job. I miss you and I love you. See you, Jay."
Despite losing to game 2-0, Hamilton Academicals recognised Jay's goal as officially counting, writing the match had actually finished 3-0 on their official Twitter account.