Floyd Mayweather's uncle, Jeff, has responded to Dana White after the UFC president slammed him for claims about how much Conor McGregor would make in a boxing fight.
The senior Mayweather had previously claimed the main reason the fight between his nephew and the Irishman was being held up was because the UFC wanted 80% of McGregor's purse.
White responded to these claims during the UFC 210 post-fight press conference before mentioning that he has already had preliminary talks with the lightweight champion.
"What I would like to clarify is all the b******t about the 80 f*****g 20 split," White said, as quoted on Bloody Elbow. "Jeff Mayweather? Come on, Jeff. Me and Jeff go way back. Jeff, are you spokesman now for f*****g team Mayweather?"
However, Jeff Mayweather thinks White misinterpreted his comments, reiterating that he was referring to the purse split between McGregor and the UFC, not with his nephew.
"I met Dana White when he first came to Vegas, and we did a lot of stuff together," he said, as quoted on Bloody Elbow. "He used to do boxing classes, boxing aerobics, and everything he did I was a part of it. So basically we're very close."
"I'm not speaking for Floyd. The 80-20 split is not for Floyd. What Floyd's getting is guaranteed. What Conor is getting – I'm talking about the split with the UFC and Conor McGregor. That's the split I'm talking about. Not no 80-20 with Floyd and Conor. Whatever Floyd's asking for, he's going to get."
While the 80-20 split seems extremely harsh, McGregor would still be making more money than the joint-record highest payout of $3m (£2.4m) he received at UFC 202. According to Mayweather, he believes the 28-year-old has no reason to complain.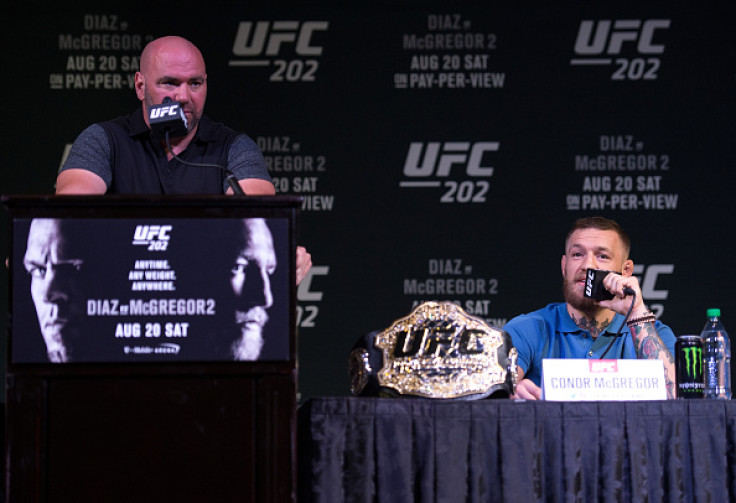 "If 80/20 is going to give you more money than you ever made, you really can't complain about it," he added. "Because, at the end of the day, that's what it's about — it's about making more money than you ever have."
"With the 80/20 split, he's (McGregor) still gonna make more money than he ever did."