Light heavyweight champion Daniel Cormier successfully defended his title against Anthony "Rumble" Johnson at UFC 210 on Saturday (8 April).
In a highly anticipated rematch, it was "DC" who emerged victorious as the second fight was almost a carbon copy of the first – with Johnson getting out-wrestled and eventually tapping to a rear naked choke submission in the second round.
Following the fight, an emotional "Rumble" (22-6 record in MMA) went first for the interview and revealed that he would be retiring from UFC.
"I don't have any excuses, I lost again to the better man," he said, as quoted on MMAFighting. "This is my last fight, I didn't want any distractions, but I want to thank you all for being with me."
As for Cormier, it was his fourth straight win and his MMA record now stands at 19-1.
The Olympian talked about his fight before stating how he hoped that this was not Johnson's last fight in the UFC.
"I couldn't believe he [Rumble] was forcing me to wrestle," Cormier said. "We were OK taking the first round, he hit me with the head kick, but it was cool. Rumble has that big burst and then he kind of panics."
"I hope he is not walking away from this sport. He has so much to offer the sport of mixed martial arts."
Cormier had previously warned Jon Jones not to step into the octagon after the main event and while the latter remained in the crowd, Cormier did speak to the former champion.
"Who? Who? Is he eligible to fight yet?" Cormier said when asked about Jones. "Get your s**t together, young man. When you get your s**t together and you're ready to fight, I'll be ready for you. As a fighter I respect him, but we don't see eye to eye."
"When you get your academics together, you can come back to the classroom."
Meanwhile in the co-main event, Chris Weidman was defeated by Gegard Mousasi in controversial fashion. The two middleweight contenders were in the clinch when Mousasi delivered two knees to the face of Weidman, deemed illegal by referee Dan Miragliotta.
"The All American" appeared to have both hands on the ground when he received the knees, but replays showed that they were not when the blows were delivered, hence making them legal.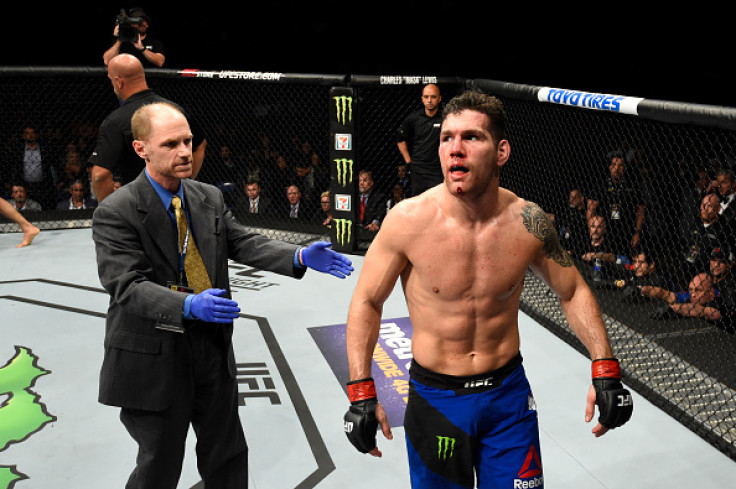 While Weidman was recovering from the blows, he soon claimed he was ready to continue, but the doctor intervened and called off the fight, ending the fight via TKO in favour of Mousasi.
With the Buffalo crowd booing, Mousasi refused to celebrate and even offered the former middleweight champion an immediate rematch.
"That's not my fault, I don't know," Mousasi said, as quoted on MMAFighting. "He can have the rematch no problem, I was ready to continue the fight. I was ready to continue, I apologize to Weidman, I like the guy I was ready to fight I was fighting."
Weidman, who believed the knees were illegal, apologised to his home state fans.
"I'm so sorry, guys. I'm so sorry this freaking happened," Weidman said. "I'm feeling for you guys. I think that was an illegal knee. Why would they even stop the fight at all if it was a legal knee? I felt my hands were 100 per cent down."
"Setbacks are the platform for your comebacks. I was ready to do that for you guys. I love you guys. I can't believe this has happened."
UFC 210 results:
Light heavyweight title fight
Daniel Cormier defeated Anthony Johnson via submission.
Non-title fights
Gegard Mousasi defeated Chris Weidman via TKO.
Cynthia Calvillo defeated Pearl Gonzalez via submission.
Thiago Alves defeated Patrick Côté via decision.
Charles Oliveira defeated Will Brooks via submission.