In 1977, Peter Hain was a member of the Liberal Party and president of the Young Liberals, a body so radical as to be branded "communists" in an internal party report and frequently called "The Red Guard" by the press. Hain – no doubt acknowledging his continuous rebelliousness, was ever at odds with the Parliamentary party, as well as other members – left that year and joined the Labour Party. He would go on to serve as MP for Neath and serve in cabinet positions.
Fast forward to 2015 and Jeremy Corbyn, the far-left maverick Labour MP for Islington North for over 32 years, with no other practical political avenue to turn to, was spared Hain's trouble. Taking over a safe Labour seat in 1983 with a comfortable 43% of the vote, Corbyn won the seat easily at the 2015 general election.
Although a notorious rebel, for the most part Corbyn remained unknown outside Labour Party circles. With the election in 1997 of Tony Blair's New Labour, when the party moved to the centre ground of British politics, the gap between MP and mainstream Labour widened significantly. Corbyn became part of a hard-left fringe that was largely ignored and excluded on policy issues.
During the 2005-2010 governments of Blair and his more left-inclined successor, Gordon Brown, Corbyn defied the party whip 238 times. This included, on many occasions, defying three-line whips, which can result in expulsion from the party.
It's possible a majority of the Parliamentary Labour Party now wish Corbyn had been expelled for going against policy so often; by "withdrawing the whip", he would still have retained his seat but as an "Independent Labour" MP.
Always allowed to say what he liked, Corbyn has never been required to share the burden of collective responsibility that comes with government or opposition. What had formerly been viewed as his idiosyncrasy, and mildly irritating, was quickly perceived as somewhat to deeply flawed, depending on how much sympathy was felt for the man, after the appointment of his shadow cabinet and his first week in his new post.
Surprise shadow cabinet choices
Some chosen for the shadow cabinet or close adviser responsibility raised eyebrows and maybe some alarm. The appointment of John McDonnell as shadow chancellor won little support outside Labour's new hierarchy. Former Labour home secretary Charles Clarke stated he was "aghast" at the appointment.
McDonnell, having in the past made statements with regards to the "bravery" and "sacrifice" of the IRA, which he now apologises for and says he regrets, notwithstanding, his attitude to and acceptance of the role of (shadow) chancellor is peculiar. He has stated he desires the overthrow of capitalism and questions why chancellor of the exchequer is acclaimed as one of the great offices of state!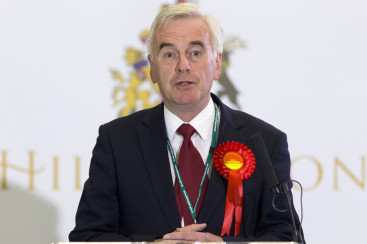 An appointment which receives much criticism in Scotland is that of Lord Watson of Invergowrie as education spokesman in the House of Lords. His Lordship, Mike Watson, was sent to prison for deliberately setting on fire curtains (and the wall behind) at a conference in Edinburgh's 17<sup>th century Prestonfield House Hotel.
On 20 September, The Scotsman kindly reminded its readership of the event with a photo taken as Lord Watson left Saughton Prison, in Edinburgh, in 2006, having served half of his 16-month jail term.
"Staggered", "bizarre" and "incredulity", mostly expressed by political opponents, but it does not do the Labour Party any favours north of the border and will certainly not be forgotten come the election to the Scottish Parliament in 2016.
Only about half of the names that supported Corbyn's nomination for the election of a new Labour Party leader actually voted for "their man"; they did so out of "fairness" to the left or to stop the left ever reminding them that they were ever ignored. That was most noble of them but being a "broad church" has its limits.
For an opposition to perform its duty properly, it needs coherence and credibility and even among those who are willing to give Corbyn a fair chance, few can claim there was much of either during his first week as leader of the opposition. Hopefully, for the country, things can only get better.