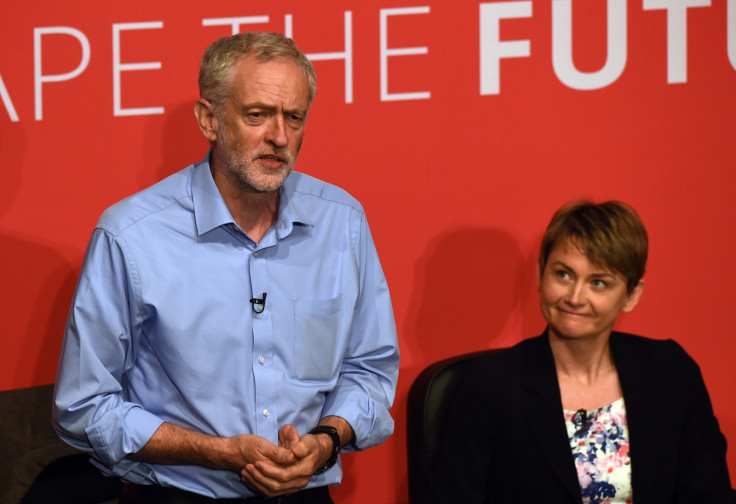 Jeremy Corbyn has come out fighting after Yvette Cooper warned Labour could split under the left-winger's leadership. The veteran parliamentarian claimed there was no "appetite" for people to quit the party in scenes reminiscent of the Social Democrat Party walkout in the 1980s.
The Islington North MP, who is favourite to succeed Ed Miliband as Labour's next leader on 12 September, also revealed he would offer positions in his shadow cabinet to a "very wide range of people". The remarks were part of an interview with The Financial Times.
The 66-year-old is a whopping 37 points ahead of his nearest rival Andy Burnham (57% vs 20%, respectively) based on first preference votes, according to a revised poll from YouGov. The survey, which was commissioned by The Times and questioned more than 1,000 Labour supporters, means Corbyn could win in the first round of the contest.
The poll is just one of the indicators that has put the socialist firebrand ahead. Corbyn has also secured the most nominations from local Labour parties as well as the winning the support of the two largest unions in the UK, Unite and Unison.
But the contest has been marred by claims of left and right-wing entryism. Labour have said more than 610,000 people registered to vote in the election, but it has barred some from having a say because their "values" are not in line with Labour's. The issue turned a new corner over the weekend after it emerged that the Labour leadership hopefuls will meet party figures on 25 August to discuss the infiltration allegations.
Meanwhile, Cooper has renewed her attack on Corbyn today in The Guardian, where she claimed that her rival lacked economic credibility. "If we're to take on the Tories and win, we have to be credible in our opposition. That means we can't pledge to just print more money year after year to pay for things we want," Cooper wrote.