David Cameron Defends Jeremy Hunt's Murdoch BSkyB Conduct amid Calls for Inquiry
Prime minister claims no evidence culture secretary Jeremy Hunt breached ministerial code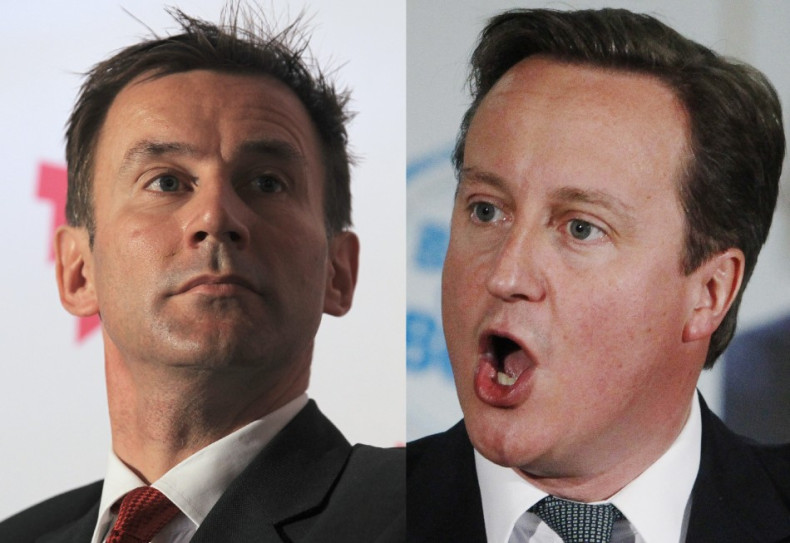 David Cameron has refused calls for an independent inquiry into alleged breaches of the ministerial code of conduct by culture secretary Jeremy Hunt.
The prime minister was called back to the House of Commons to answer urgent questions on the affair as Labour leader Ed Miliband called for the case of Hunt's conduct to be referred to an independent adviser.
Evidence uncovered by the Leveson Inquiry into press ethics revealed confidential information passing from Hunt's special adviser Adam Smith to News International during the company's bid to takeover BSkyB.
Reasserting his faith in Hunt, Cameron repeated his claim that the Leveson inquiry should be finished before another inquiry was made to cut across it.
"We have a judge-led inquiry, at which witnesses have to give evidence under oath, all live on television. There's nothing this tough or this rigorous that an independent inquiry would provide," Cameron said. "It is neither necessary nor right to have a parallel inquiry."
Cameron said that there was no evidence that Hunt acted in breach of the code, but said that he would not hesitate to take action or seek further advice should evidence of breaches be found by the inquiry.
Over the roars of an increasingly hostile shadow cabinet, Cameron lashed out at claims that there was an form of agreement between the government and Rupert Murdoch with regard to the bid was "simply not true".
Miliband accused Cameron of standing by and taking no action in the face of "clear breaches of the ministerial code".
"We need a government that stands up for families, not for the rich and powerful," he said, before repeating Leveson's spokesman's statement that it was not his duty to be the arbiter of the ministerial code.
Miliband made claims of multiple breaches; Hunt's failure to reveal all exchanges between his department and News International, the passing of confidential information and the concept of Smith having been on "freelance mission".
"Is he really using the News of the World defence? One rogue individual, acting alone? If the culture secretary was really that clueless then he should be sacked anyway.
"The special adviser had to go to protect the culture secretary and now the culture secretary has to stay to protect the prime minister. Too close to the powerful few and out of touch with everyone else."
Cameron branded Miliband's comments "weak and wrong" and called for him to "get his facts right".
He went on to claim that shadow culture secretary Harriet Harman made her calls for Hunt's resignation only 23 minutes after she heard accusations of improper activity.
"She said "I don't need to read the evidence - I heard the evidence of James Murdoch". So that's it, Murdoch is their arbiter of standards and the ministerial code."
He repeated that the accusations were serious, before calling for Labour to make all of its meetings with News International public, accusing them of 15 years worth of "pajama parties".
He said it was clear that the relationship between the media, police and politicians had become too close and that the Leveson Inquiry was the most rigorous method to deal with the issue.
Lord Justice Leveson has refused a request from Hunt to bring forward his session of giving evidence in order to clear his name.
Rupert Murdoch and BSkyB: Does MPs' Report into Phone Hacking Send Ofcom the 'Not Fit and Proper' Signal?