Former BSkyB CEO James Murdoch has denied at the Leveson Inquiry that British culture secretary Jeremy Hunt was a "cheerleader" for the company.
Murdoch faced fierce questioning by counsel Robert Jay, QC, on the political influence of News Corporation in the lead-up to its controversial final purchase of BSkyB.
Jay focused on a series of emails sent by Frédéric Michel, the News Corp head of public affairs, as he raised concerns that Hunt helped to "oil the wheels" of the bid.
Jay referred Murdoch to the comments on Hunt's own website, which describe him as a "cheerleader" for the Murdoch family.
It was also revealed that Hunt's special adviser called Michel in June 2011 to explain that the government "would be supportive throughout the process" of the £8bn takeover, and that there "shouldn't be a plurality issue".

Hunt was given quasi-judicial responsibility for the bid after business secretary Vince Cable was removed in December 2010 for displaying "acute bias" against the Murdochs.
Jay claimed the emails made it clear "that you were receiving information along the lines that the UK government as a whole would be supportive of News Corp".
Hunt decided in March 2011 that he would not refer the bid to the competition commission, against the advice of Ofcom.
The Labour Party is expected to demand Hunt provide a Commons statement on his communications with News Corporation, which he has repeatedly assured Parliament were above board and impartial.
Murdoch steadfastly declared a separation between the company's business strategy and any sort of political involvement, despite revealing that he met David Cameron 14 times between June 2006 and December 2010.
One of the meeetings took place in December 2009, when Murdoch and Cameron discussed The Sun's shifting its allegiance from Labour to the Conservatives, a decision that many commentators saw as the final nail in the coffin of the Labour government.
Murdoch said the news seemed to be welcomed by Cameron but claimed that the announcement was not connected to the company's buyout plans.
News Corp chose the Conservatives, he said, "for the party's approach to enterprise and business. The Conservatives tried to make the case that they were the better option."
Jay asked: "Having committed The Sun to the Conservatives, surely it wouldn't have been desirable for there to have been a Labour victory in the election with regard to BSkyB?"
Murdoch replied: "That's never a calculation. We would never, and I would never, have made a crass calculation such as that."
Jay argued that it would represent a "sophisticated" calculation as to which election result might have the best outcome for BSkyB.
"Or what might be the best for the British economy in general," Murdoch replied. "That would have been my view."
Murdoch admitted meeting Cameron at the home of Rebekah Brooks in 2010, when he said he discussed the bid, although not in detail.
"I imagine I expressed the hope that things would be dealt with in a way that was appropriate and judicial. It was a tiny side conversation; it was not a discussion," he said.
Murdoch also revealed that he had visited Chancellor George Osborne at his home, although he was unclear about whether the bid was discussed.
He said: "I might have had one discussion where it might have come up and I might have spoken about the process and how I was grumpy about it being referred to Ofcom. Nothing would have been in any way inconsistent with our public advocacy of the project."
Murdoch continued to defend the company against Jay's claims that its size and power gave it political weight during the "ever-changing balance of power".
He said: "I just don't think that there is that very old-fashioned view of big media proprietors being able to dominate the landscape. I just don't think that is the case any more."
He said he could not deny that it was possible that politicians could perceive a news organisation as being able to sway public opinion, but added: "That is a question for them".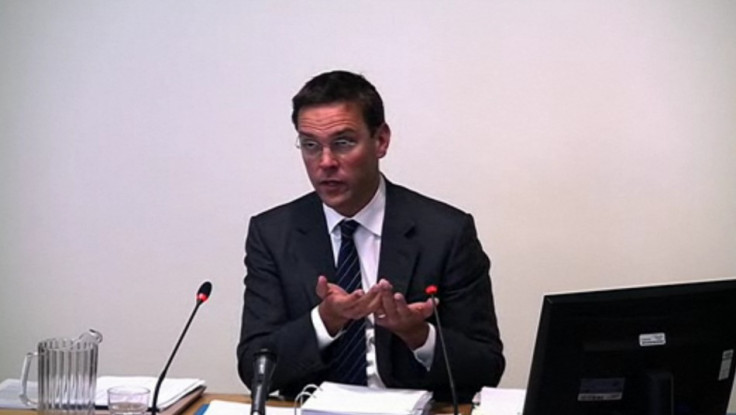 Jay then asked Murdoch what truth there was in allegations that he burst into the newroom of the Independent newspaper and launched a foul-mouthed tirade at then-editor Simon Kelner over a 2010 billboard campaign with the tagline: "Rupert Murdoch won't decide this election. You will".
Kelner's version of events, Murdoch said, "is not correct. I had a meeting in the same building and they were just downstairs.
"I was upset and concerned because they had not run an article but had put up a lot of giant billboards with the message on them. I thought they were really personalising an agenda against my father and family that I found inappropriate. I've always been a direct person, so I thought I would tell them face to face.
"I went in through the front door as they don't really have a desk or a reception or even a lock, so I ended up in the middle of the newsroom. I found Mr Kelner and asked if I could speak to him.
"We went into his office and I told him my concern. Whether I used colourful language I won't dispute."