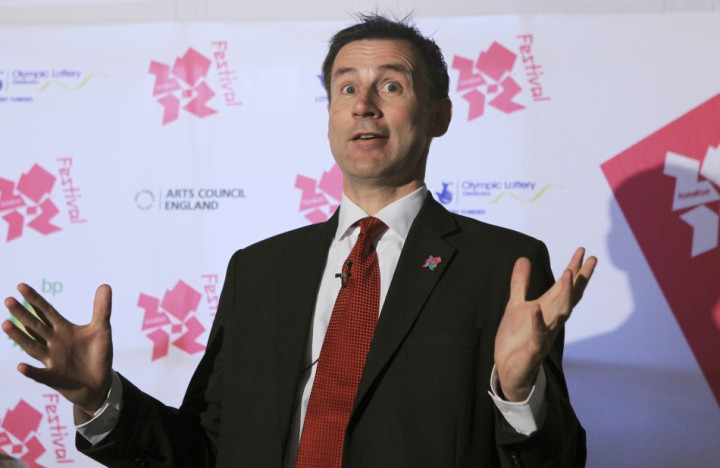 Culture secretary Jeremy Hunt is facing renewed calls for an inquiry into his behaviour during News Corporation's bid to takeover BSkyB.
Hunt, who continues to stress he acted with "total integrity" during the £8bn bid, has repeated plans to clear his name with an appearance at the Leveson Inquiry into press ethics, with which he plans to share all e-mails and texts between him and his advisers.
Prime Minister David Cameron has pledged his support for the minister and called for the inquiry to be given the time and space to continue.
Liberal Democrat deputy leader Simon Hughes, however, has added his voice to calls for an inquiry into the dealings of Hunt's office with News Corp.
Speaking on the BBC's Question Time, Hughes said: "What I cannot understand is why the matter of the ministerial code of conduct is not something the prime minister immediately should refer to the person who's been given the job to do it.
"Only the prime minister can do that. He has so far, I gather, resisted doing it. I don't think it gets in the way of the Leveson Inquiry and the evidence, it's a separate matter."
He said he hoped Cameron would reconsider his view.
The allegations came to light with the publication of more than 160 e-mails written by News Corps former public affairs director Fréd Michel, which appear to show access to confidential information from Hunt's office, at the Leveson Inquiry while James Murdoch gave evidence.
Soon afterword, Adam Smith, special advisor to Hunt, resigned, claiming that he was responsible for the e-mails and that he allowed the perception to grow that News Corp had too close a relationship with the culture department.
Hunt's defence in a statement to the House of Commons was almost shouted down by the shadow cabinet, as he warned that "this is not the time to jump on the political bandwagon".
Speaking of the bid, he said: "I would like to set the record straight on a number of points. I very strictly followed due process, seeking the advice of independent regulators, something I did not have to do."
He went on to speak out in support of Smith, whom he claimed "overstepped the mark", amid jeers that he was sacrificed to save Hunt's skin.
"I would like to set on record that [Smith overstepped] unintentionally and I don't believe he was doing any more than giving advice on process.
"I believe him to be someone of integrity and it's with huge regret to me that this has happened."
MP Dennis Skinner said Smith's resignation proved that "when posh boys are in trouble, they sack the servants."
TomWatson, MP for West Bromwich East, asked if Hunt really expected people to believe that the action was the work of a "single rogue adviser".
Shadow culture secretary Harriet Harman, who called for Hunt's immediate resignation, claimed that it was not part of Lord Justice Leveson's terms of reference to look into ministerial codes of conduct.
"That is the job of the independent adviser and the prime minister will not allow him to look into this."
News Corp owner Rupert Murdoch gave evidence to the Leveson Inquiry over two days, in which he denied any recollection of meetings with Hunt.
When Robert Jay QC asked Murdoch whether he was surprised at the apparent closeness between Michel and Hunt's office, he replied: "No, and I don't want to say anything against Mr Michel, but I think there could have been a little exaggeration."
Rather than believing that Hunt was a particularly good man for the job from the position of News Corp, Murdoch said that they "couldn't have anyone worse" than business secretary Vince Cable, who stepped away from the bid after 'war on Murdoch' comments.
Hunt's department has stuck to the line that Smith acted alone. It said in a statement: "As Adam Smith's statement makes clear, the content and extent of his contact was done without authorisation."