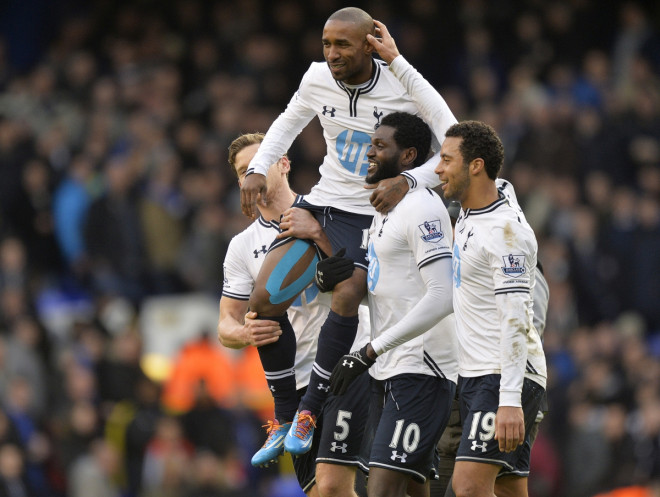 Tottenham Hotspur striker Jermain Defoe has played his final game for the club after being ruled out of the Europa League last 32 second leg against FC Dnipro with a hamstring problem – leading manager Tim Sherwood to spark a search for his replacement.
Defoe leaves Spurs as the club's fifth highest goalscorer of all time having netted 143 goals across two spells at White Hart Lane.
The England international will join Toronto FC on a four-year deal at the end of the month but will miss out on a European farewell this week due to injury.
And Sherwood has lamented his departure while comparing Defoe to Tottenham's highest ever goal scorer, Jimmy Greaves.
"Jermain [Defoe] possibly after Jimmy Greaves, is one of the best goalscorers this club has ever seen," said Sherwood.
"We need to find another one like him. He always played with his heart. I appreciate his efforts and he will always be a legend."
Defender Kyle Naughton added: "He has been great for us since I have been here. He has scored how many goals?
"He has been great to play with. You just gave him the ball and let him do his business. He will be missed."
Defoe's move to the MLS is expected to end his chances of being included in England's World Cup squad this summer and leaves Tottenham short in attack in the final three months of the season.
The 31 year old has had a limited impact this term, starting just 12 matches in all competitions, but a haul of seven goals in five games in the Europa League helped him usurp Greaves as the club's highest scorer in continental competition.
Tottenham have Emmanuel Adebayor and Roberto Soldado in their ranks but with just 19 goals between them this season Sherwood will be seeking a contribution from elsewhere in his team if the club's Champions League ambitions are to be realised.
Sherwood will no doubt delve into the transfer market in the summer in order to replace Defoe and bolster his attacking reserves, if indeed he is kept on having only signed an 18-month deal in December.